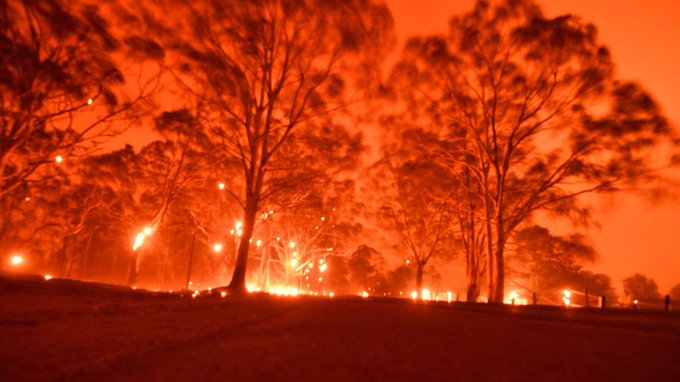 Thousands of holidaymakers and locals are trapped on a beach in fire-ravaged southeast Australia today (Tuesday).
As Euro Weekly News understands as many as four thousand people, including Spanish tourists are trapped, on the foreshore of the encircled seaside town of Mallacoota.
The current blazes that rage through Australia have destroyed more than 1,000 homes and scorched more than three million hectares (7.4 million acres) – equivalent to a third of Spain's Andalusia.
Authorities have stated that there are some 30,000 tourists enjoying Australia's summer holidays, tourists who have been repeatedly informed by officials to leave those areas ravaged by the devastating bushfires.
Temperatures in bushfire areas can hit hundreds of degrees Celsius (Fahrenheit) killing anyone nearby, long before the flames reach them. Concern for the tourists and residents in the Mallacoota area have grown and preparations were reportedly under way for a sea or airborne evacuation if needed.
On social media, residents said they were putting on life jackets in case they need to seek refuge from the fire in the water, which would be a "last resort option" according to Victoria's emergency management agency.
As reported by the state's newspaper The Age, the temperature shot up to 49C (120F) early this morning.
My niece's photo of Mallacoota; she's found refuge on a houseboat, thank goodness. I hope everyone has a safe place today🤞#vicfires #gippslandfires pic.twitter.com/GUsKnFvbRM

— Vicki Ward MP 🌈 (@VickiWardMP) December 30, 2019



The newspaper goes on to describe how the sky went black and then dark red as the fire threw embers near residents who had gathered on the beach – many wearing swimming goggles and breathing masks, some sitting in boats.
People on the beach have reportedly said they could see houses being destroyed and hear gas canisters exploding.
Australia's unprecedented bushfires have been burning for months, but a new heatwave and high winds have wrought new devastation. The crisis has hit cities like Sydney and Melbourne, home to several million people. However city officials said Sydney's New Year's Eve fireworks would go head, though a similar event has been cancelled in Canberra and several regional towns.
There were 8.5 million international visitors to Australia in 2018, with a growing trend from Spanish tourists.