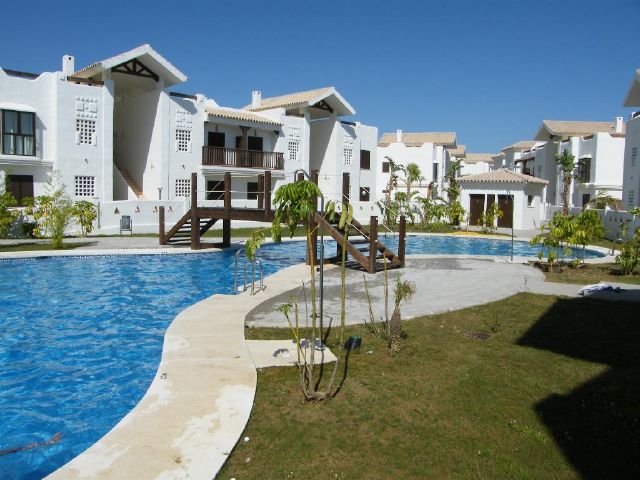 Another British person has died in Spain on the Costa del Sol, bringing the total to 4 in tragic circumstances since Christmas Eve.
The Bomberos fire fighting services of Spain as well as emergency services were called out to the Alcaidesa Golf & Beach resort just past Sotogrande as a home on the complex was ravaged by fire.
3 fire engines tackled the blaze as National police and 2 ambulance crews all attended the scene due to many people being trapped as the fire spread through the complex.
Whilst many were rescued by the emergency services a 50 year old British man was brought from the raging fire but died due to dense smoke inhalation and burns.
With apartments packed tightly together on the resort, fire spread quickly through homes, leaving many to be rescued by emergency services.
The fire broke out around 2.30AM whilst most residents were sleeping and the cause of the fire is yet not declared although thought to either be an electrical issue or accidental misuse of an electrical appliance that triggered the devastating fire.
Eye witness Spanish taxi driver Sergio Velez described the scene to the Euro Weekly News.
He said: " I had a fare to the golf course resort from Malaga airport and as we neared the resort we could see dense black smoke filling the sky, flames were ripping through the apartment block, as we pulled up as near as we could we could see people being brought out by emergency services, many coughing and spluttering as emergency services treated them placing oxygen masks over their mouths, it was dark but the flames stood out in the dark night, fire fighters tackled the blaze from what I could see quite quickly but there was a lot of dense smoke billowing out of the apartments. My fare was a German man and wife who returned to their holiday home from Berlin and were devastated at the scene. They knew people being rescued. Its a close community up there of winter golfers " Sergio said.
" Unfortunately word spread of a death believed to be a man and despite resuscitation attempts apparently he passed away" he further said.
It's now been reported the victim was a 50 year old man of British nationality.
Investigations continue into the actual cause of the fire.
The upmarket resort is a favourite with winter golfers and no statement has yet to be made from resort owners.