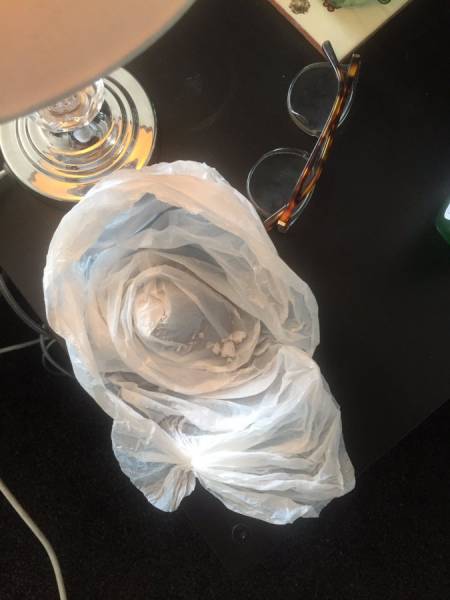 A Scottish mum was just about to get ready to show her house to an estate agent and thought to tidy up a few items, to her horror she found a bag full of white crumbs in her son's bedroom and, without thinking twice, or stopping to ask her son, posted her concern directly on Facebook:
"Jake went out to get a haircut this morning and he hadn't hoovered his bedroom before the estate agent was due to come in so I had to go in and do it.
"Found some strange paraphernalia on his bedroom table. What looked like a thick beige ceramic polo mint and there were large circles of dusty powder too.
"And a thin white plastic bag which, at first, I thought was empty but when I picked it up to crumple and put it in the bin, it had something in it, right in the bottom corner."
She added: "My heart rate increased – oh God, he's on drugs – is this crystal meth? How do you take crystal meth? Has he used the grindstone object to crush it and then snort it?"
Turns out the "grindstone" was actually just an incense holder and the "suspicious white powder" was a prawn cracker and all Jake enjoyed now and again was a bed-time snack.
Jake himself decided to tweet the incident which went viral within minutes racking up over 91,500 likes: "Don't usually tweet right, but I've just come home to my mum crying her eyes out asking if I do crystal meth because she found prawn cracker crumbs in a bag on my bedside table."
don't usually tweet right, but I've just come home to my mum crying her eyes out asking if i do crystal meth because she found prawn cracker crumbs in a bag on my bedside table pic.twitter.com/WzYLV7XGY9

— jake (@jacobmdci) April 11, 2019



Some of the replies were just as humours, one twitter user commented:
"My mum once called my sister in tears because she found a small white triangular tablet on the floor in my bedroom… it was a Smint."
Another added: "When I was 13 my mum accused me of glue sniffing because I had a red raw nose due to a cold she knew I had," a third wrote. "She said I was acting dopey, I was a 13 year old boy it's what we did back in the day…"