THE momentous New Year celebrations have kicked off in style across the globe, with the uber-luxurious Dubai making a grand attempt to blow every other nation out of the water.
Thousands of people descended Downtown and packed the waterfront as the rulers of the United Arab Emirates put on an impressive fireworks extravaganza. In a move not to dampen spirits, the display also came on a night that police reminded everyone to avoid excessive shows of affection, a banned action in the strict Arab nation.
Renowned for their out-of-this-world proposals, the city spared no expenses with an flamboyent pyrotechnic show at the Burj Khalifa, the world's tallest tower, where 24 further events took place across the city.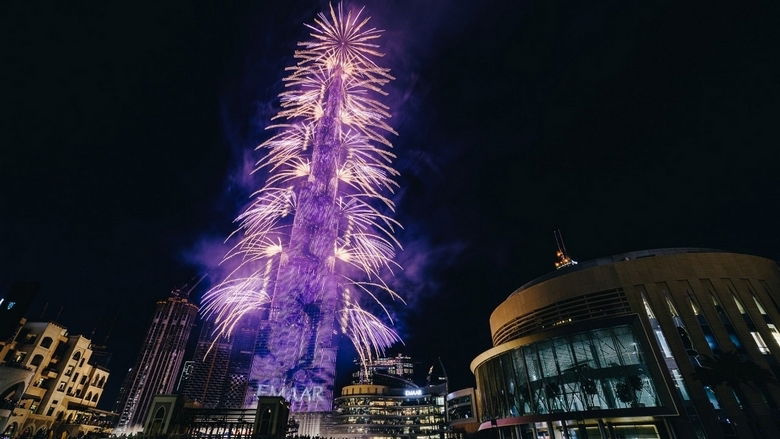 There was a stunning 3-minute fireworks show and laser display at the iconic Dubai Frame, an internationally acclaimed architectural landmark. The Dubai Fountain also took centre stage, where a water-musical dance dazzled those who watched.
An hour before midnight, a group of wingsuit flyers burst through the skies over Sheikh Zayed Road which was made to look like comets flying across the night's skyline.
The rulers also delivered their New Year messages which was focused on peace after the region had been beset with controversy and accusations of human rights violations for several years. Sheikh Mohamed bin Zayed, the Crown Prince of Abu Dhabi, sent a goodwill message which said:
"As we welcome a new year, our ambitions grow and we become more determined to multiply our national achievements.
"With God's will, we will keep fulfilling our civilised mission of promoting well-being, coexistence and tolerance.
"I wish the people of the UAE and the world well-being with every year.
"We hope that 2020 will be a year of peace, stability, optimism and goodness for humanity."