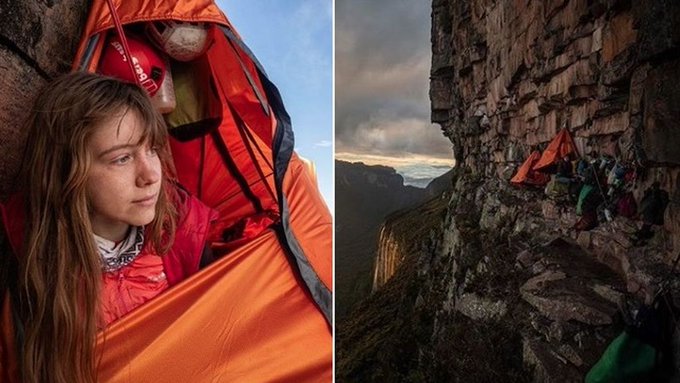 Anna Taylor, 21, has conquered the daunting walls of Mount Roraima in the rainforests of Guyana – and with it she becomes the first female to do.
The Briton was a member of a six-strong team who first needed to trek through 33 miles of untracked jungle, which included venomous spiders, snakes, scorpions and swamps before reaching the spectacular mountain.
Anna, together with the other members of the team then took two weeks to climb the daunting 2,000ft-high prow – sleeping in specialized hanging tents 'portaledges' that are attached to the side of the cliff.
As reported by the Daily Mail, Anna said that the climb was "very physically challenging to tackle" as the whole wall is very steep and their climb via the new route on the prow – labelled the 'wall' – saw the members of the team roped in at all times on the vertical face.
Miss Taylor, who started out as an indoor competition climber at the age of ten, said: 'It was the most incredible experience of my life.
The mountain was first described to Europeans by Sir Walter Raleigh during a 1595 expedition.
It is a tepui – flat top mountain – that sits on the border between Guyana, Brazil and Venezuela in the Amazon basin.
Nicknamed the Floating Island, scientists say it has a unique eco-system with many plants only found there.
Miss Taylor was the only female member of the Roraima team, led by fellow Briton Leo Houlding, 39, and sponsored by UK outdoor brand Berghaus.