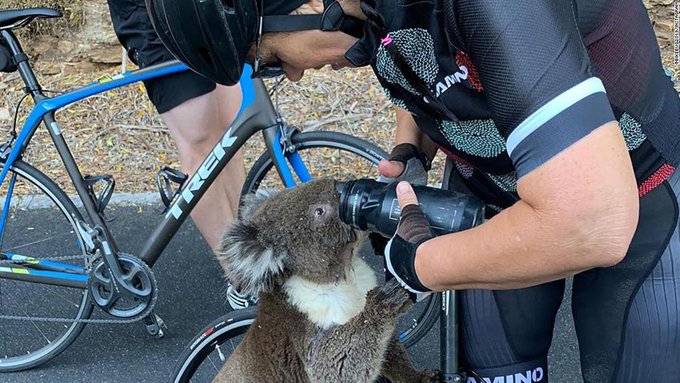 AS temperatures soar in Australia, breaking heatwave records, Australians and the Australian wildlife continue to suffer.
Just recently, as reported by Euro Weekly News, Australia endured it's hottest day on record.
The record comes as the nation battles a severe drought and bushfire crisis.
Several bushfires have combined to form what is being called a 'mega fire' in a national park forest north of Australia's biggest city, Sydney. Firefighters warned late Friday that they are struggling to contain the blaze, which continues to burn across at least 300,000 hectares (741,000 acres) of land covering the city in a plume of smoke and haze.
Australia's koala's are one of those most suffering from the continent's extreme weather, with over 2,000 already perished from heat and dehydration.
One koala however, found a solution. It stopping some cyclists to sip from their water bottle.
A photo posted on Instagram by cyclist Anna Heusler shows the desperate marsupial climbing onto the frame of a bicycle to get a better sip.
The cyclists, who were riding towards Adelaide in 40°C (104°F) heat, spotted the koala as they came around a bend on the road.
As reported in the New Zealand Herald, Heusler told how how the group of cyclists stopped to try and aid the koala and " help relocate him off the road" when the koala walked right over to Heusler, climbed up onto her bike and had a drink from her water bottle.
"None of us have ever seen anything like it." she added
The pictures are touching, but the incident also shows the dangers posed to the animals' existence by the current fire situation in the country.
A parliamentary inquiry heard earlier in December revealed that at least 2,000 koalas have already died in the devastating and widespread bushfires which rage across South Australia and the east coast of the continent.
The animals have died either from the actual fire or from starvation and dehydration afterwards.
Director of the Total Environment Centre Jeff Angel warned that the risk to koalas' survival was at emergency level due to the bushfires, which have caused loss of habitat for the marsupials. "We urge the government to do more, and quickly," Angel told News Ltd on Saturday.