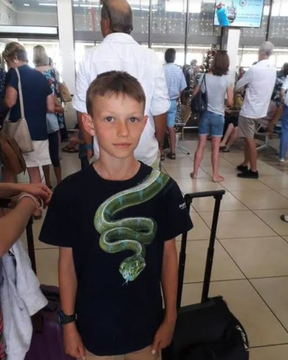 STEVIE LUCAS, 10, was on a family trip from New Zealand to South Africa to visit his grandparents on December 17.
Before boarding his flight at O. R. Tambo Airport in Johannesburg, South Africa, the boy was informed by airport security officers that the t-shirt he was wearing, which bore the image of a snake, would not be allowed on the plane.
The boy's parents Steve and Marga were informed by security officers at Johannesburg airport that snake toys and printed clothing with the reptile image was not allowed on board.
Their reason given was that seeing the reptile could cause anxiety in other passengers or crew members.
Lucas turned his shirt inside out, put it back on and proceeded to board the plane.
This is not the first time clothing has caused issues and conflicts between passengers and cabin crew, just recently, as reported by Euro Weekly News, American Airlines threatened to boot Swati Runi Goyal from a flight from Florida to Nevada in December because she was wearing a shirt that read, "Hail Satan."
In June, Dr. Tisha Rowe of Texas was asked to leave an American Airlines flight because of her outfit, a strapless romper. Rowe had to cover herself with a blanket before being allowed on the flight.
"Here is what i was wearing when @AmericanAir asked me to deplane for a talk," Rowe tweeted. "At which point I was asked to 'cover up.' When defending my outfit I was threatened with not getting back on the flight unless I walked down the aisle wrapped in a blanket."
Here is what i was wearing when @AmericanAir asked me to deplane for a talk. At which point I was asked to "cover up". When defending my outfit I was threatened with not getting back on the flight unless I walked down the aisle wrapped in a blanket. #notsofriendlyskies pic.twitter.com/AYQNNriLcq




— Tisha Rowe MD, MBA (@tisharowemd) July 1, 2019