TENS of thousands of residents and holidaymakers in the Australian state of Victoria have been ordered to evacuate immediately due to worsening bushfires.
The conditions across the state are reported to be extremely serious, as temperatures reach over 40C where there is also a presence of strong winds and thunderstorms which increase the devastating effects of the fires. A change in wind direction has led officials to warn that Monday (December 30) will be a day of extreme danger across Victoria.
In East Gippsland, three fires are currently ravaging the towns of Bruthen, Buchan and Bonang which are forecasted to grow significantly. Andrew Crisp, the Chief of Emergencies has said those residing in this area should leave their homes imminently, and if necessary, no later than Monday morning.
Officials also believe that the fires could burn towards the coast, potentially crossing and cutting off the region's main road. In a statement to the press he said:
"What we are saying now, based on the conditions that will be confronting us tomorrow across the state, but in particular in East Gippsland, is that if you're holidaying in that part of the state, it's time that you left."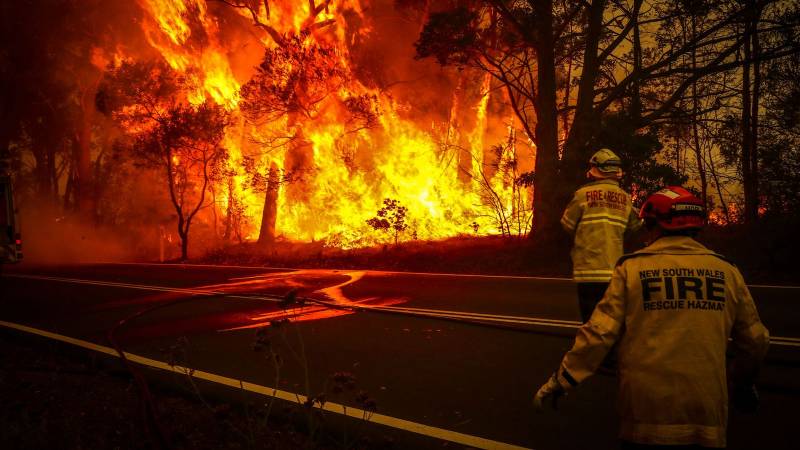 Mr Crisp added that anyone in the area to the east of Bairnsdale, which lies some 280km east of Melbourne should evacuate immediately, as there will be no chance of providing emergency assistance to those in the region tomorrow due to the high risk of danger. Releasing a short statement through twitter the CFA said:
"Everyone in East Gippsland must leave the area today due to the fire danger forecast for tomorrow. Do not travel to this area. It is not possible to provide support and aid to all the visitors currently in the East Gippsland region."
It is estimated that approximately 30,000 people are currently holidaying in the threatened area with thousands of people also living in the state. A major music festival in the area was even cancelled earlier today due to the high threat of danger. Its organisers stated that it was too dangerous for the popular Falls New Year's Eve festival to take place in Lorne, some 140km south-west of Melbourne.
New South Wales is also facing severe fire conditions in the next few days, with temperatures expected to peak on Tuesday increasing the possibility of more fires, where at present there are over 100 bushfires burning which are predicted to worsen. NSW Rural Fire Service Commissioner Shane Fitzsimmons explained that if the conditions are too risky, the fireworks on New Year's Eve will also be cancelled. He said:
"We've got some deteriorating weather conditions over the coming days, particularly Monday and worsening through to Tuesday."
The town of Balmoral, south-west of Sydney, was also largely destroyed just last week, with its major roads south of the city being closed. So far, the fires have destroyed 4 hectares in five states since September and at least eight deaths have been linked to the fires.