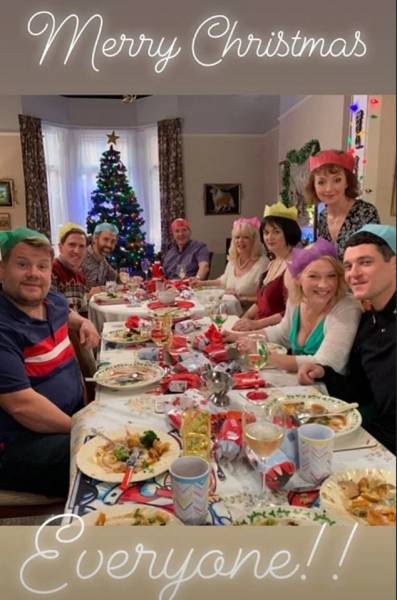 The return of "Gavin and Stacey" was a big hit on Christmas Day for the BBC, but it also angered some U.K. viewers over the use of a homophobic slur in a song lyric. The romantic comedy drew the Beeb's biggest audience for a Christmas Day program since 2008 with 11.6 million viewers.
Gavin and Stacey was also criticised for 'pushing the idea that cannabis is okay' Some of the characters were seen smoking during the Christmas special, some people say there were trivialising the dangers posed by the drug.
But the special also generated some anger among viewers who were expressed dismay at the use of the f-word homophobic slur in the performance of the Pogues' Christmas chestnut "Fairytale of New York." The sardonic song that dates to 1987 has for decades been one of the most popular Christmas tunes in the U.K.
Nessa, played by series co-creator Ruth Jones, and Bryn, played by Rob Brydon. Bryn sings the line that has been modified in some recent cover versions: "You scumbag, you maggot, you cheap lousy f—–."
" 'Fairytale of New York' is a very popular, much-loved Christmas song played widely throughout the festive season, and the lyrics are well established with the audience," a BBC spokesman said in a statement.
Jones, who co-created the series with James Corden, who also co-stars as a key character, said the decision came down to the fact that she and Corden believed that the characters of Nessa and Bryn would sing the song with the original lyric.
"It is a different climate. But we have to remain true to the characters, to who they were," characters in Gavin & Stacey are kind and big-hearted, I believe. So I think no one is going to be intentionally hurtful. But by the same token, they're not necessarily going to be completely politically correct or be aware of political correctness."
The song's status as a U.K. holiday staple has generated debate in the past over how the f-word lyric should be treated. Co-writer Shane MacGowan has said the song is written from the perspective of a woman who is "not nice" and from a different generation. He has also said he has no issue with radio stations bleeping out the word.
Actors including James Corden, Ruth Jones, Larry Lamb and Joanna Page all necked back real booze while filming the long-awaited reunion episode, to air on Christmas Day. Robert Wilford, who plays Stacey's brother Jason West, let slip the details and said: "It was just one of the loveliest days I've had on set filming with everyone.
"Towards the end of the last day filming we may have had a real drink in that scene.
"Because we didn't have any lines and we were just enjoying ourselves, we did all have a drink. "It was James's idea! It was really lovely. It wasn't Archers and lemonade!"
"It was James's idea! It was really lovely. It wasn't Archers and lemonade!"
How old is Nessa?
Keen-eyed Gavin and Stacey fans have worked out Nessa Jenkins' real age is 54. The show's viewers were left shocked during Wednesday night's Christmas special, when Nessa revealed she would have been 35 years old when Stacey, played by Joanna Page, was 17.
That meant Nessa, played by 53-year-old Ruth Jones, was 18 years older than her best friend, who was 26 at the start of the series in 2007, with some fans taking to a group about the show to share their findings.
A peer whose son killed himself after becoming hooked on high-strength cannabis has criticised the BBC for trivialising the danger posed by the drug in its Gavin And Stacey Christmas Special.
Lord Nicholas Monson, whose son Rupert committed suicide aged 21 in January 2017 after developing drug-induced psychosis, said the comedy's message that 'everyone knows weed is harmless' was mistaken.
In a scene from the show, one of the characters, Dawn – played by comedian Julia Davis – is mocked by friends for worrying about her husband smoking cannabis after finding a joint in his car.
When she shows it to the others they laugh: 'Is that it?' and say they used to smoke it all the time.
After being reassured, Dawn is shown smoking the joint and sharing it with the other characters who are giggling uncontrollably, seemingly having a good time.