Shocking Claims made by a butler who worked on 'Love Island' allege that Ghislaine Maxwell 'threatened a 15-year-old Swedish girl held hostage on the private island when she refused to have sex' for a hedge fund billionaire and his wife.
He alleged in court documents that he found the girl 'quivering' in the kitchen-then said she went on to make claims about her treatment on Epstein's island.
Rinaldo Rizzo, a butler who worked for hedge fund billionaire Glenn Dubin and his wife, Eva Andersson-Dubin, said in filings for an unrelated case that Epstein and Maxwell brought the teenager with them when they visited his employers in New York.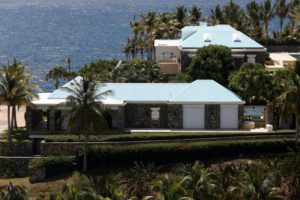 He said he found the girl crying in the kitchen, and heard her describe her alleged treatment at the hands of Maxwell and her assistant, Sarah Kellen, when she was being held at Epstein's property in the US Virgin Islands. Mr Rizzo claimed the girl told him that Maxwell and Kellen had demanded sex from her and taken away her passport and threatened her when she refused.
According to Mr Rizzo, he introduced himself and his wife to the teenager after Andersson-Dubin stepped out of the kitchen for a few moments. He said the girl sat in a stool next to a kitchen counter in the Dubins' home. She was 'distraught and shaking…literally quivering'.
He continued in the testimony: 'She proceeded to tell my wife and I… "I was on the island and there was Ghislaine, and there was Sarah," and she said, "They asked me for sex. I said no".'
According to Mr Rizzo, after the young girl refused to have sex, Kellen took the young girl's phone and passport and gave them to Maxwell.
'And at that point, she said she was threatened,' Rizzo testified.
'And I said, "Threatened?"
'She says, "Yes. I was threatened by Ghislaine, not to discuss this".'
Mr Rizzo testified that the girl stopped answering questions once she realized that Andersson-Dubin was heading toward the kitchen, he later testified that he saw the girl about a month later on board a flight with the Dubin family to Sweden.
The testimony came from a defamation lawsuit brought against Maxwell by alleged sex slave Virginia Roberts Giuffre.
The case was settled in 2017, but 2,000 pages of documents from the proceedings were ordered unsealed on Friday by the U.S. Court of Appeals for the Second Circuit.
Latest Update:
The FBI is investigating the British socialite Ghislaine Maxwell and several other people linked to the US financier Jeffrey Epstein, who killed himself while awaiting trial on sex trafficking charges.