NEWS the authorities have uncovered a marijuana plantation is not so uncommon on the Costa Almeria. Nevertheless, British expat Tony Faith was shocked to discover there was a large-scale cultivation of the drug literally just over the road from his home in Huerta Nueva in Los Gallardos.
The first thing Tony knew of the dodgy goings on in the distinctive pink house was when eight law enforcement vehicles pitched up in the early hours of Friday morning. Helmet wearing Guardia Civil clad in black jumped out and "rammed their way in" to the property, Antony told the Euro Weekly News.
Officers later informed Tony's Venezuelan wife they discovered marijuana growing in the house and garage and seized more than 1,000 plants in the raid, which went on until about midday, and that two men were under arrest.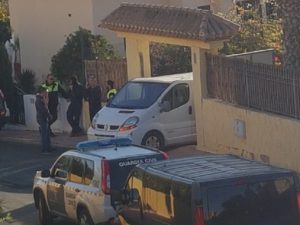 Tony, who has lived in Huerta Nueva since 2015, believes the house was bought by a Russian a few years back, having been empty for some time. It was then subsequently rented out.
Tony was aware of works going on in the house at some stage, but said he virtually never saw anyone going in or out. Just once a month or so two men would arrive and leave shortly after.
What did strike Tony as odd was that there were air-conditioning units running the whole time. In fact according to Antony the next-door neighbour was on the point of reporting the constant noise from the machines to the local council.
Other neighbours affirmed that stand downwind of the house and you would catch a strong waft of marijuana, but Ttony said he wouldn't have recognised the smell anyway.
Having a marijuana plantation right on his doorstep was certainly an unexpected surprise for Tony.
As he commented, "You just don't know who your neighbours are."