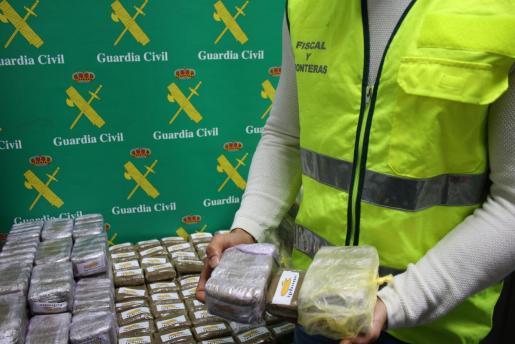 IT may sound a lot but the 51 tons of narcotic substances seized in Malaga province on Spain's Costa del Sol up until the end of November is 30 tons less the same period of 2018.
These figures relate to the Guardia Civil and the National Police's specialist Udyco unit. More drugs were seized by other National police departments.
The Guardia Civil seized 27.5 tonnes of hashish and two tonnes of marihuana, while troops of the specialised National Police Udyco unit seized 15.2 and 1.8 tons of these substances, respectively.
Between the two bodies, the agents intervened 42.8 tons of hashish, a figure much lower than that recorded in the same period last year, when 68 tons were counted. As for marihuana, this year has seen 3.9 tonnes compared to three in 2018, plus 7,275 plants intervened by Udyco.
As for cocaine, the four tons intervened by Udyco stand out, a quantity lower than the 9.9 tons of last year; while the Guardia Civil seized about 193 kilos. The sum represents a decrease compared to the same period in 2018.
In addition to the Udyco specialised unit, the National Police seized another 13 tons of drugs in the province, including 9.7 tons of hashish, 2.3 of marihuana, 1.6 of cocaine, 36.6 kilos of ecstasy and six of MDMA. Both bodies also seized 42.1 kilos of ecstasy and Udyco also intervened with 5,615 tablets.
With regard to those arrested in connection with drug trafficking, a total of 2,424 persons were arrested by the Guardia Civil, while 1,592 were arrested by the National Police, of whom 462 were arrested by Udyco, making a total of 4,016 arrests, which is higher than the 3,691 arrested in 2018.
In addition, Udyco agents seized 14 pieces of computer equipment, 290 mobile phones, 40 watches, 30 pendrives, 13 number plates, a simulated weapon and 2,146 grams of anabolic agents as well as around €2 million in cash.
Investigators also seized five kilograms of explosive material, two hand grenades, a bulletproof vest, bullets, seven GPS devices, decoders, SIM cards, radio frequency and camera surveillance detectors, and nine knives.
Finally, 522,000 packs of cigarettes, 4,774 kilograms of rolling tobacco, 153 pieces of jewellery, precision scales, 8,700 grams of chemicals, 19,000 litres of methanol, 33,000 litres of acetone, 22,050 grams of caustic soda, 1,000 grams of pseudo-phedrine and 2,146 grams of anabolic agents were also seized.