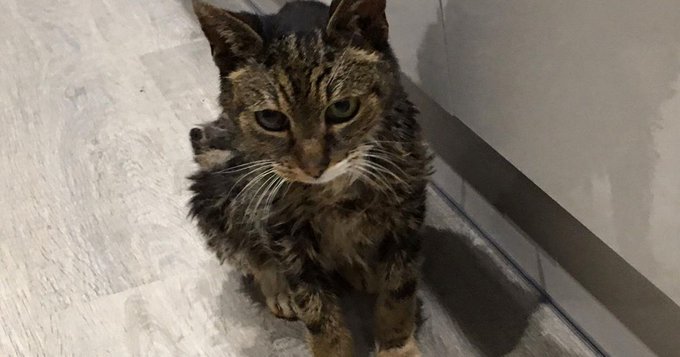 A Nineteen-year-old moggy called Tabs has given his cat-loving owners the best Christmas gift they could have wished for, a reunion, after seven years, on Christmas Eve.
Tabs, 19, vanished in February 2013 as his distraught owners, Jude and John Kinloch were set to move home. Now the nineteen-year-old moggy has been returned home and reunited with his owners on the Isle of Sheppey, Kent, in what Jude and John call a "Christmas miracle'
Tabs was found by an animal-loving passer-by who saw the cat looking "poorly" and called the Animals Lost and Found Charity.
Volunteers at the charity locate a ID microchip and proceed to phone Jude and John who at first believed the call was a prank.
According to The Mirror, Prison worker Jude, 53, said that at first she couldn't believe it, assuming it had to some sort of joke. But then the volunteer on the phone identified the cat and Judy knew it couldn't possible be a hoax, rather a "Christmas miracle".
According to Judy her husband John "hasn't stopped crying since" as if he had been "reunited with his best friend."
The couple immediately drove to collect their cat, recognising him straight away despite his poor condition.
Judy described how the cat looked "emaciated" with a protruding spine and mattered hair as well as sores all over his body. But Tabs the cat had survived and his reappearance seven years after vanishing was, for the cat-loving couple, a miraculous "Christmas gift"