This week Celebrity Chef from Ready Steady Cook & Fellow Master Chef Steven Saunders, proprietor of The Little Geranium in La Cala cooks home-made food for Boxing Day and post Christmas.
BOXING DAY was traditionally a day off for the servants of the house in Victorian days.
It was the day when they received a 'Christmas Box' from the master of the house usually containing a gift, some money and some leftovers from the lavish Christmas Day meal.
The servants would go home on Boxing Day to give 'their Christmas Boxes' to their families.
The practice developed to people giving Christmas boxes (commonly a small gift or some money) to tradespeople who had provided them with good service in the course of the year.
So Boxing Day is an important day on the calendar and in these more modern times it is a good excuse to keep the family together. As I grew up, at Christmas it was getting more and more difficult to guarantee that our family came together. So Boxing Day became like a second chance at Christmas Day, it was and still is an important part of our Christmas celebrations.
Boxing Day is great for using up the leftovers from Christmas Day, but you need to add in a few extras to make it feel special. We don't want the guests feeling like they are just getting the leftovers! I always threw a big Boxing Day party when I lived in the UK. Close friends and family would show up for the buffet of the year!
I always went to the extreme, we had a barbecue outside with a sirloin of beef as well as the buffet inside with cold turkey, ham, lobsters, crabs, smoked salmon, and usually a goose or duck as well as a steaming hot turkey and ham pie, a large salad and loads of pickles.
Family and friends went into the kitchen, piled their plates high and always returned for more. One year I had been so busy at the restaurant that I asked one of my chefs to cook the lobsters and the crab and some other things.
He delivered it all into my fridge at home and on Boxing Day morning I put it all out on the table as normal. One of our friends went up to the table and screamed out loud…. we all came rushing in.
The chef in charge of preparing the food for me had assumed that the whole crab had already been cooked and my friend had turned the crab over to attempt to pull off the claws and the crab struck back as it was alive!
It was really funny at the time but we all felt sorry for the crab so we removed it from the table and kept it alive in salt water.
I'll never forget my friend saying, "I'm off shellfish, I will just have some pie and another glass of mulled wine!"
Steven Saunders's opinions are his own and are not necessarily representative of those of the publishers, advertisers or sponsors.
---
Mulled wine and Turkey and ham pie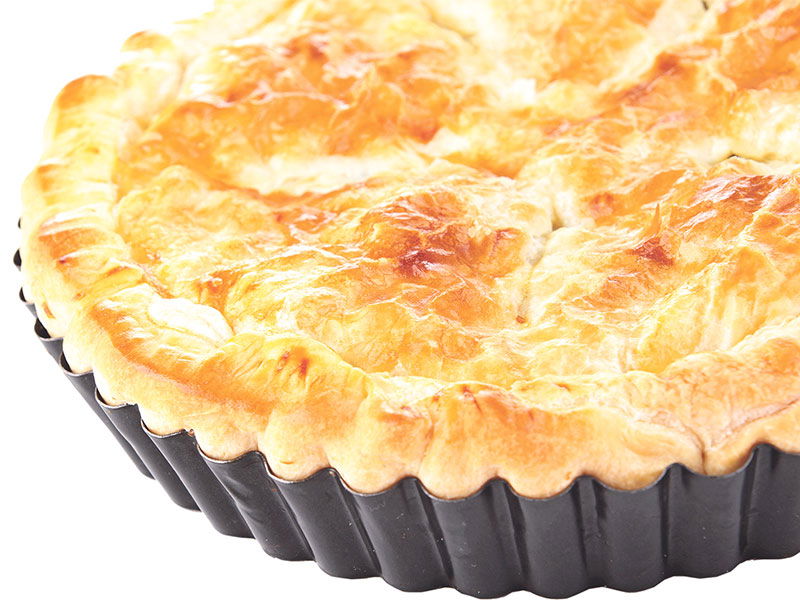 Delicious Mulled Wine
This recipe has been in my family for years. It is delicious, saves opening bottles of expensive wine, warms you up and gives everyone a lovely Christmas glow!
Ingredients
1 bottle decent quality red wine
1 large cinnamon stick broken in two
3 or 4 cloves
2 pieces of star anise
zest of 1 lemon and then slice the lemon after
4 tbsp soft brown sugar
250ml brandy
150ml gin
150ml of stones ginger wine
1 punnet blueberries
1 orange sliced
Method
Put the red wine, brandy, gin, cinnamon, star anise, cloves, lemon zest and sugar in a large pan. Cook on a low heat for 20 minutes. Do not boil!
Remove from the heat, taste and add the fruits and the stones ginger wine leaving it all to infuse for five minutes or so.
Serve it warm ( but not red hot) in mugs or heatproof glasses
Steven's Turkey and Ham Pie
Ingredients
600g of cooked turkey cut into bite size chunks
300g cooked ham cut into same size chunks
For the Sauce
50g butter
3 tbsp of plain flour
250ml double or thick cream
50 g of mature cheddar grated
1 leek washed and chopped finely
500ml of turkey or chicken stock
1 glass of white wine or dry sherry
1 tbsp of Dijon or wholegrain mustard
2 tbsp of chopped fresh tarragon (or 1 tbsp dried)
Maldon salt and white pepper
For the home-made Pastry
500g of plain flour
75g of suet (optional)
200g of cold butter diced
Approx 150 ml of cold water
2 egg yolks for glazing pastry
To make the sauce
Heat the butter in a thick saucepan and add the leeks and cook gently until soft but not coloured.
Stir in the flour and pour in the stock and whisk in, bring to the boil and immediately add the cream.
Reduce heat to gently simmer until sauce thickens.
Add the wine and the mustard and the tarragon and whisk in. (This sauce can be made a day or so in advance) Taste and check seasoning.
To make the pastry
Tip the flour and salt into a food processor or mixer. Add the butter and the suet (if using) and whizz in until it looks like breadcrumbs.
With the motor running slowly pour in approximately 150ml of cold water until the pastry comes together. Tip the dough onto the surface and use a little extra flour to knead the dough until smooth. Wrap in cling film and rest the dough for 20/30 minutes in the fridge.
To construct and cook the pie
Get your pie dish ready and heat the white sauce.
Tip in the turkey and ham pieces and cook gently until it is all warm, taste and correct seasoning, and then pour the mix into the pie dish.
Roll the pastry out 5mm thick and drape over the pie with plenty of hang over. Trim the hangover and crimp the edge all the way around neatly. Cut a little hole in the centre to let the steam out and brush the pie with egg yolk evenly.
Bake in a pre heated oven 180ºC and cook for 35 -45 minutes until golden brown and bubbling hot. Serve on your buffet table next to the meats and pickles.
Follow Steven on Instagram … saunderschef – Email any questions … [email protected] The Little Geranium, Winner of Best Contemporary International Restaurant 2019-Costa Del Sol – www.thelittlegeranium.com