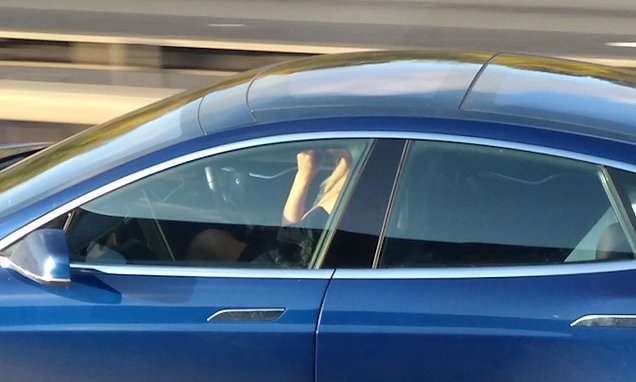 Multitasking has a time and a place, and driving in the fast lane down the M25 is not the time nor the place.
A woman has just been been filmed applying make up while driving her £80,000 Tesla along the fast lane of the M25.
The Tesla has an autopilot mode which uses a series of cameras and radar to watch surrounding traffic. This complex system is capable of steering the car and adjusting the speed to cope with the traffic conditions, but under UK regulations, the driver cannot remove both hands from the steering wheel, or use a hand held mobile phone. Neither of course apply makeup, let alone all three at the same time.
The shocking images have been taken by a passenger who was travelling by coach and was able to look down into the electric car and see that the woman driving was not using her hands on the steering wheel, rather busy applying makeup with the sun visor down and paying absolutely no attention to the road.
The footage was taken at the section of the M25 near Heathrow, which is Britain's busiest road with 219,000 vehicles using that stretch every day.
As highlighted by Rebecca Ashton, RoadSmart Head of Driver Behaviour at the Institute of Advanced Motorists, driving a car with advanced assistance features does not mean that drivers can allow to become distracted when behind the wheel. Adding, as reported by the Daily Mail that vehicles which offer these "advanced systems" still need the driver to have "total supervision with their hands on the wheel and ready to act if necessary."
Ashton stressed that as technology advanced and society transition to ever more intelligent vehicles, it's important that drivers fully understand the technology on vehicles. Despite advances, drivers need to be aware that cars with autopilot are to assist NOT take over the responsibility of driving, which remains with the driver who has to respect all the current laws and rules of road safety.
According to Tesla, at highway speeds, drivers typically receive warnings every 30 seconds or less if their hands aren't detected on the wheel. They also believe that many of these videos appear to be "dangerous pranks or hoaxes."