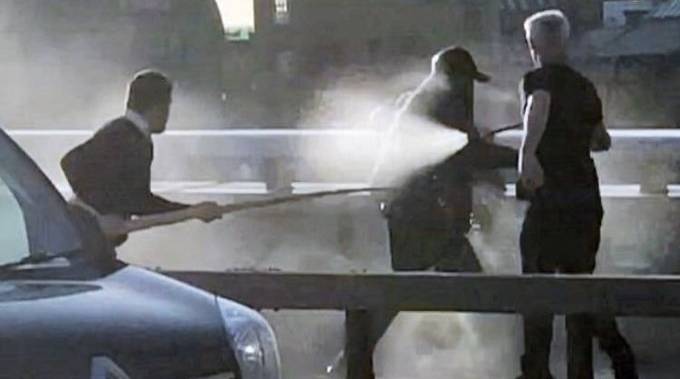 REPORTS are circulating that the individuals who risked their lives to tackle convicted terrorist Usman Khan are likely to receive the highest awards for bravery next year.
The heroes were unaware that Khan's suicide vest was fake when they gallantly fought him after he launched a horrifying attack on London Bridge, England, last month. In the wake of the tragedy, Boris Johnson described all those who put their lives on the line as "the very best of the British people."
Speaking to the press, a spokesman for Mr Johnson said that the Prime Minister and the country held huge admiration for the courage which was shown. Although it is too late for all the individuals to receive their medals in the New Year honours list, they are expected to be awarded at the Queen's Birthday honours next summer or in the 2021 New Year's list.
This includes Darryn Frost who first grabbed a tusk from the wall of Fishmongers' Hall as the terrorist launched his frenzied attack that killed 23-year-old Saskia Jones and 25-year-old Jack Merritt, and which also left a number of other innocent people seriously injured.
John Crilly, 48, who was on parole after serving 13 years in jail for manslaughter and a good friend of Mr Merritt, also battled Khan with a fire extinguisher. In addition, tour guides Thomas Gray, 24, Stevie Hurst, 32, and an unnamed off-duty plainclothes police officer helped to disarm Khan as armed police raced to the scene.
After the attack, Mr Gray explained how he stamped on Khan's hand as the killer clutched a knife. Mr Hurst also described how he jumped in and kicked the terrorist in the head to make him release his weapon.
Lukasz Koczocik, 38, a kitchen worker, also bravely battled Khan, later releasing a statement to say that he "acted instinctively" after ripping a 5ft-long ceremonial lance from the walls of Fishmongers' Hall and fighting head-to-head with the terrorist.
Since his act of selfless courage was revealed, Mr Koczocik earned praise from his colleagues. Commodore Toby Williamson, CEO of Fishmongers' Hall described how Mr Koczocik charged towards Khan, buying much needed time to allow others to escape to adjacent rooms.
Originally from Stoke, Khan was a convicted terrorist who had been a member of an al-Qaida group that plotted to blow up the London Stock Exchange.
The UK-born terrorist had been living in Stafford after he was released from prison on licence in December 2018, where he had been attending a prison rehabilitation event at Fishmongers' Hall before he was shot dead by police. As part of his parole conditions he was banned from entering London but it was temporarily lifted to allow him to attend the event, sparking outrage from people across the country.
After the tragedy which rocked the capital, the acts of bravery were a stark reminder of how ordinary people can take extraordinary actions to save themselves and others.