ELITE Samurai swordsmen are coming to Mojacar.
Members of the Andalucia and Spanish national Iaido (Japanese sword) team will be attending a training session at the Nexa sports facility in Mojacar on Saturday January 11 from 9am to 1pm.
The event is being organised by Javier Tirado Contreras 3rd Dan, who is responsible for the Andalucía Iaido team. Javier is also a member of the Spanish national team and a European gold medallist.
Leading the session will be Karl Gibbons 5th Dan, who is a former UK team manager and coach to European and UK gold medallists.
Karl retired four years ago and now spends his winters in Mojacar. He teaches regularly at the Ishindenshin club in Almeria, where, he says, he has been very welcome by Javier Tirado Contreras and the other club members.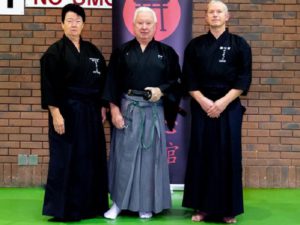 Karl told the Euro Weekly News the hope is the Mojacar date will be the first of a bi- monthly event held to develop the Andalucia Sword Team.
"It is wonderful to be able to assist with this programme and to hold this event in Mojacar, which is a town that I love", Javier commented.
"The art of Iaido is thriving in Andalucia. This is a great opportunity to develop a sense of community, to assist in athletes' personal development and to make people aware of our sport. I am really looking forward to it."
There is a seated viewing gallery at the sports centre for members of the public who would like to watch the session.