STRICTLY star Gemma Atkinson showed off her post-baby bikini body on Instagram during a recent family winter break in Spain with boyfriend Gorka Márquez and five-month-old daughter Mia.
The 2017 finalist, and star of the Strictly Christmas Special, showed off her incredible bikini body in a snap, which was shared with her 1.3 million Instagram followers.
The former soap star and her boyfriend Gorka, 29 – a professional dancer on the BBC ballroom dancing show – headed to his hometown of Bilbao, Spain, to spend time with his family during the festive season.
Gemma, who is currently on maternity leave from her regular Hits Radio breakfast show following the birth of her first child in July, made the most of the warm weather by heading to the pool.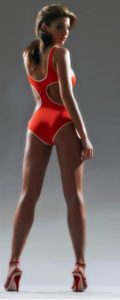 In the snap, Gemma can be seen leaping into the air in the middle of the swimming pool with her arms high above her head, sporting a big grin on her face. Clearly enjoying herself, she captioned the image: "Chuffed."
Gemma took to Instagram to talk about her fitness training and how it had changed following the birth of her daughter. She said she had a newfound "respect and appreciation" for her body and was mentally stronger. She went on to say: "When I train, I flood my body with endorphins and it makes me feel positive, energised and happy." And added: "I don't starve myself or rely on any 'quick fixes' I eat well, exercise and work hard like everyone else has to."