Boeing Starliner Lands in New Mexico After Clock Error Prompts Early Return. The new ride to orbit built for NASA and its astronauts returned to Earth after problems during its first trip to space on Friday.
Boeing's new spacecraft, the CST-100 Starliner, safely parachuted to Earth on Sunday, landing atop inflated airbags before dawn at the White Sands Missile Range in New Mexico.
"It was an absolute bull's-eye," said Jim Bridenstine, the NASA administrator during a news conference after the landing. The safe and seemingly flawless return of the capsule, which did not have any people aboard, provided an upbeat ending to a mission that started unhappily when a clock problem caused the spacecraft to deplete its propellant. A planned docking at the International Space Station was called off, and the capsule returned after only two days in orbit.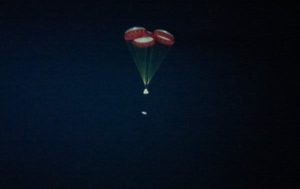 The mishap on Friday added to a week of bad news for Boeing, which announced its commercial plane division would temporarily halt production of the 737 Max, its most popular passenger jet, which crashed in 2018 and 2019 and was subsequently grounded.
Diagnosing and fixing the clock problem could add delays to the commercial crew program, NASA's strategy of relying on private companies to build spacecraft to carry astronauts to and from the space station. It is already more than two years behind its original timeline.
"The vessel looks great," Mr. Chilton said. "They're telling us there's hardly any charring, perfectly level on her airbags. And that bodes really well for reusability."
The Starliner capsule will be transported back to Kennedy Space Center in Florida, where it will be refurbished. Each capsule is designed to fly up to 10 times, and this one is currently scheduled to head to space again, this time with astronauts, in the second half of 2020.
Before then, Boeing is to fly another test flight, but with astronauts aboard.
Mr. Chilton agreed that it was too early to say whether the next Starliner flight will have astronauts aboard. "We're not in position to propose that and we don't propose it until we know the machine is worthy," he said.
About half an hour before landing, thrusters fired for 55 seconds to drop the spacecraft out of orbit. That set off an automated choreography — jettisoning pieces no longer needed, deploying parachutes, inflating the airbags — that appeared to unfold flawlessly. The capsule touched down in the freezing desert before sunrise near a former space shuttle runway.
"It was just picture perfect," Sunita Williams, the NASA astronaut who is to be the commander of the next flight of this capsule. She was at White Sands as part of the team examining the capsule after landing.
At the invitation of Boeing, Ms. Williams said she would like to name the spacecraft Calypso after the ship used by Jacques Cousteau to explore the oceans.
The return of the capsule on land was unusual, at least for NASA. All previous landings of its capsules — the Mercury, Gemini and Apollo programs of the 1960s and 1970s — were in the ocean. After all, you might be safer diving into water than an expanse of sand…
But, Russian astronauts have always landed on solid ground, and that approach offers advantages. Salt water corrodes metal, which would complicate plans to reuse Starliner capsules for future missions. Also, a capsule hitting an ocean wave at the wrong angle could sink. (That is what happened during testing of Apollo capsules, requiring a revamping of the design.)
While NASA and Boeing had many reasons to celebrate on Sunday, the mission went awry in a puzzling way on Friday.
Quite simply, Starliner got the time wrong!
When the spacecraft separated from the Atlas 5 rocket that lifted it to space, an incorrect clock, off by 11 hours, caused it to start firing its thrusters and try to get into the position and orientation where it thought it should be.
"She thought she was later in the mission," Mr. Chilton said on Saturday, "and being autonomous, started to behave that way."
Boeing does not know what went wrong.
"If I knew, it wouldn't have happened" Mr. Chilton said. "We were surprised."
The spacecraft's software set its clock based on the time it received from the Atlas 5 rocket before launch, and it is still too early to tell how it pulled the incorrect information, said Mr. Chilton. He added that the problem was with the Boeing software, not with the rocket, which was built and operated by another company, the United Launch Alliance.