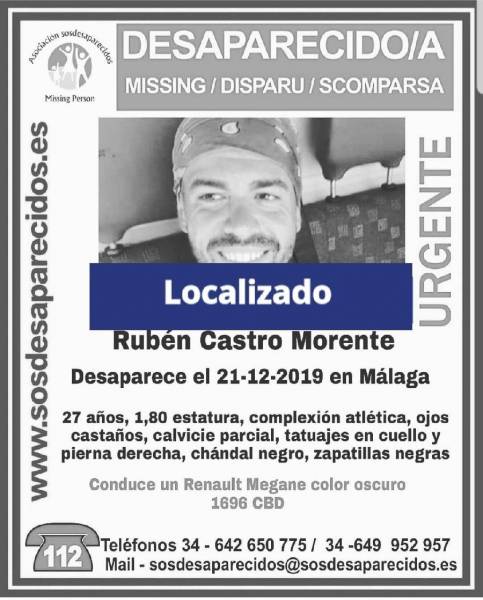 The man who went missing on Saturday, December 21 in Churriana in Malaga province has since been found and returned home in a positive turn of events.
'SOS Desaparecidos' ('SOS Missing') reported that Ruben Castro Morente had been located after Local Police in Arahal received a call alerting to a car off the side of the A-92 road. When they approached him, the man was completely disorientated and wearing sports clothes.
Police received the call at quarter to six on Sunday after a concerned resident saw Ruben's blue Renault Megane, that had been driven off the side of the road. According to officers, the man was trying to walk along the motorway after possibly running out of petrol. Ruben explained that he had left home to do some exercise and had since been going around in circles. He also asked Police to call his family and let them know he was okay, as he didn't have a mobile phone.
The family had been concerned as Ruben has an attention deficit hyperactivity disorder and needs to take daily medication. Fearing for his well-being, the family filed a missing person report with the National Police, alerting officers to his disappearance. They highlighted that the person had never disappeared on any other occasion.