MOJACAR'S El Bandido Runners were out in force at the third edition of the five kilometre Llano de Don Antonio Christmas race near Carboneras on Sunday.
The runners were as distinctive as ever in their blue and orange kit, plus Santa Claus hats for the occasion.
The ladies excelled with a number of podium places: Claire Donald finishing second female, and there were age group places for Kirsty Ratcliffe (third in Vet C), and for Karen Ayers, Mogsy Ford and Janice Byers , who were placed first, second and third respectively in Vet E.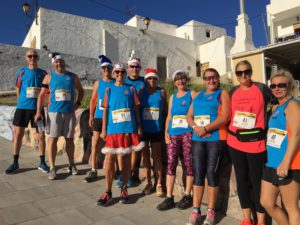 The village came out to support the runners, walkers and junior races in glorious sunshine. Everyone received a commemorative race T-shirt and a much needed cold drink and sandwich after the race which, was held to raise funds for ASALSIDO (Asociación Almeriense para el Sindrome de Down).
El Bandido Runners is a local group, set up by Ironman Kevin Rowe in June 2018. The group started with a small number of regulars and has grown with runners, joggers and walkers, who are permanent residents, regular visitors and holidaymakers, covering the five-kilometre Mojacar Playa promenade.
The group welcomes all ages, nationalities and speeds. If you are interested in joining them go along on Wednesday and/or Saturday at 9am from October to April and at 8am from May to September.
The meeting point is opposite the Best Indalo Hotel on the Paseo del Mediterraneo, apart from on the first Saturday of each month when they meet at the Red Cross roundabout end of the promenade to be nearer to the the monthly post-run breakfast chosen cafe.
For more information about El Bandido Runners contact Kevin on [email protected] or follow them on Facebook https://www.facebook.com/pg/elbandidorunners.