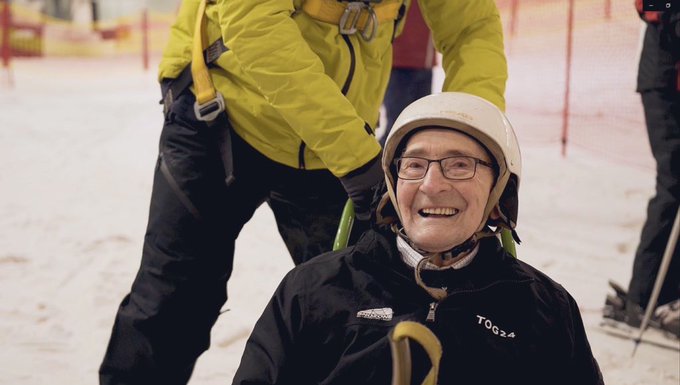 BOB TRULOCKE had always dreamed of going skiing, however life got in the way and at 92 it seemed that it would remain "unaccomplished" on his bucket list
The 92-year-old, known as Bob, from Witney, Oxfordshire, had expressed to the staff at the care home where he resides, UK's Millers Grange, that he had always wanted to try skiing – describing it as a 'boyhood ambition' – but believed he had missed his chance.
Care home staff encouraged Bob to pursue his dream and on finding out that skiing was Mr Trulocks "boyhood dream" staff at the care home started working with Snozone – an indoor real snow resort – in Milton Keynes to make the pensioner's wish come true.
Just a couple of months before his 93rd birthday, Bob hit the slopes with the help of his brilliant carers at his nursing home in Oxfordshire.
In fact, he enjoyed it so much, that he didn't hesitate to head back to the top of the slope for another go, proving you can show and old dog new tricks and with the right attitude, you're never "too old" to try something new.
Inspirational footage shows Robert Trulocke sitting in a specially adapted ski wheelchair, which is steered by a second skier, as he slaloms down a slope.
As confirmed by Euro Weekly News, Bob used an accessible ski in a sitting position, which gave him more stability on the slope and allowed him to try the slalom, which is where the skier has to weave in and out of poles, a challenge for any beginner, except Bob.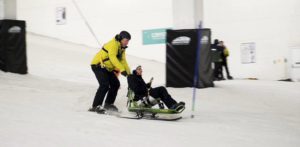 As reported by the Daily mail, a delighted Mr Trulocke said how "fantastic" it was to finally go skiing, especially as he himself had given up on the idea of making it happen for himself. He then expressed his gratitude to "everyone who made it possible" particularly the team at Snozone and his "friends" at Millers Grange who arranged everything. Adding that it had been a "wonderful day" that he would "never forget."
Mr Trulocke described how he felt 'alive' being able to do the slalom, weaving in and out down the slope and that age didn't have to be something to hold people back from achieving their dreams. Something that Bob believes and hopes he proved that day.
'Age doesn't have to hold you back from your dreams, and I hope I proved that today.' – Bob Trulocke