At the end of a difficult year, Queen Elizabeth has posed for photographs with her son Prince Charles, grandson Prince William and great-grandson Prince George in an apparent message about the continuity of the British royal family.
Buckingham Palace released photographs on Saturday of the Queen and the three immediate members of the line of succession as they prepared traditional Christmas puddings. Prince George, 6, is the focus of attention for his older relatives as he stirs pudding mixture in a bowl.
The palace said the four generations of royals represented a cross-section of people helped by a charity for serving and former members of the armed forces – the Royal British Legion – which the queen has supported since 1952.
The family scene struck a happy note for Queen Elizabeth, 93, after a difficult year.
The mixing session was led by one of The Royal British Legion's care home chefs and Army Catering Corps veteran, Alex Cavaliere, and attended by four veterans – Colin Hughes, Liam Young, Lisa Evans and Barbara Hurman. A new Royal British Legion recipe was created for the launch, with the Royal Family uniquely adding poppy seeds to the mixture, in a nod to the charity's iconic symbol of Remembrance.
The family stirred four puddings together – which traditionally brings good luck – and each placed commemorative sixpences into the mixture, ready to be found by those attending the get togethers next year. These special puddings will form part of the 99 puddings distributed across the Legion's network in time for the Christmas 2020 get togethers, marking the charity's 99th year. Footage of the session will be shown in The Queen's Christmas Broadcast on Christmas Day.
Over the past 12 months, her husband Prince Philip got a police warning for his involvement in a car crash, grandsons Princes William and Harry publicly fell out and her second son Prince Andrew became more entangled in the furore over his links to disgraced U.S. financier Jeffrey Epstein.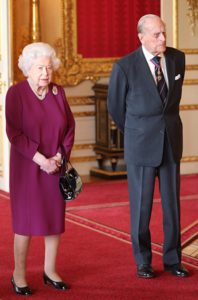 The Duke of Edinburgh, 98, was noticeably absent from the family photos. Prince Philip was admitted to King Edward VII Hospital in London on Friday, for observation and treatment in relation to a pre-existing condition. In a statement Buckingham Palace said: "The admission is a precautionary measure, on the advice of His Royal Highness' Doctor." The news came after the Queen arrived at King's Lynn rail station by commuter train on Friday afternoon to begin her Christmas holiday at Sandringham.
The Duke and Duchess of Sussex are also on a six-week break from royal duties and are spending their time privately in Canada with their seven-month-old son Archie.