Spain's death toll from the recent storms has now risen to 5.
Whilst the storms have dispersed on the Costa del Sol – Storm Elsa clashed with Storm Fabien in the more northern parts of Spain as well as Spanish capital Madrid.
Recorded winds from Storm Fabien hit 105 MPH as it tore through regions of Spain.
A woman was unfortunately killed in Madrid yesterday as flying debris struck her on the head, according to Madrid interior minister who said stone masonry flew off a central building.
8 of Madrids parks were closed down by Police as the huge gusts tore down trees in the region and slung them flying through open spaces damaging parked cars and buildings.
To top it off during the storm large hail stones came flying down filling the streets.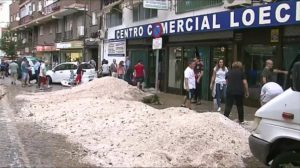 Rivers couldn't cope with the deluge of water bursting their banks and flooding streets causing serious issues for shop and home owners.
The storm is now heading into France as the country prepares for what battered Spain and airports have already been closed as they prepare.