The Spanish lottery handed out today a bumper 2.24 billion euros to lucky prize winners.
The lottery is known as El Gordo which is known as " the fat one" and is broadcast live on Spanish TV as the prize draw is rolled out.
Unlike the UK and Euro millions lottery the prize money is distributed more evenly between winners with the top ticket winning 400,000 euros, whilst the Spanish lottery itself is regarded the largest in the world.
A top ticket went to the heavily populated ex pat region of the Costa Blanca in Spain, whilst the region itself had in total had winners up to 160 million euro prizes.
Early reports from the Costa Blanca are the winner of the top ticket in Murcia is a Welshman from Cardiff who was seen running through the streets celebrating wearing a Cardiff City football shirt.
We spoke to Murcia based bar owner Les Riley who said " As always on the 22nd of December the bar is packed early as the draw is made, we probably had around 70 to 100 in this morning for the draw, as a top ticket came out a middle aged man screamed " Yes" and ran out into the street before charging down the road, I haven't seen him before but he was wearing a Cardiff City football shirt and he certainly was very happy"
" I'm thinking he's possibly on holiday as he's not been in before but I maybe mistaken" Les said.
They're maybe a surprise in store for the possible winning Welshman as unlike the UK, tax has to be paid on the top prizes which will be around 76,000 euros although prizes under 200,000 euros are tax exempt.
Spain established its national lottery as a charity in 1763 during the reign of King Carlos III. Its objective later became to shore up state coffers. It also helps several charities.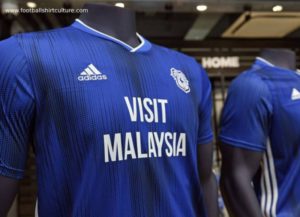 Do you know a lottery winner this morning wearing a Cardiff City shirt?