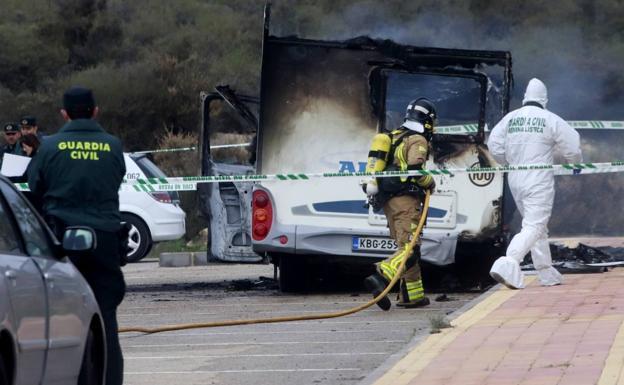 The Costa Blanca is a designated route for Scandinavians who travel through Spain avoiding their harsh winter back home and take to the roads of Spain in luxury motorhomes.
In Murcia today a Finnish man died as his motor home exploded and whilst his wife survived the explosion and has been transferred to hospital with burns, the explosion left also one of their dogs dead and another one missing.
The Finnish married pair were parked up on the sea front in Murcia when an explosion took place in their motor home igniting a huge blaze, fire services promptly arrived at the scene quickly after witnesses saw the explosion but it was too late to save the Finnish gentleman victim or his dog.
Police are investigating the cause of the explosion which is believed to be caused by a gas explosion with a canister going up in the explosion.
Witnesses described the shocking scene. Helen Bannister said " we were walking along quietly with our dog when all of a sudden there was a big boom – I looked up and a motorhome was in a ball of flames, fire engines and firefighters were quickly on the scene but as we stood and watched it was clear somebody had died as firefighters brought a body out the van that was heavily scorched and lifeless"
Paul Burgham also witnessed the incident as he told the Euro Weekly News: " It just went bang and shot up in flames, it's not something you expect to see, I was very shocked"
Investigations continue into the cause of death.