One of the country's most notorious criminals based on the Costa del Sol and 25 of his crew jailed.
Liam Cornett controlled a sprawling drugs network that ran from his Costa del Sol base to estates across the UK. The 29-year-old from Liverpool, partied in Marbella and Monte Carlo as he made huge sums from an operation that brought misery to the streets of the UK.
Nicknamed 'the Lam' , he was backed by Michael Rice and Kieran Eves, and helped set up distribution lines from Liverpool to other cities – sometimes working with local criminals, sometimes simply taking over streets hundreds of miles from Merseyside. The investigation that led to their downfall was sparked by – and later involved – two of the most extraordinary incidents in Liverpool's underworld in recent years.
The first saw a mum accidentally set off a home-made grenade stored on top of a wardrobe at her Dingle home, leading to emergency services being called to the property. Police officers who attended discovered the device had been part of a criminal stash that included 158kg of amphetamines and just under a kilogram of cocaine, an illicit haul valued at £1.6m. The bizarre March 2017 incident kicked off one of the most extensive investigations ever undertaken by the North West Regional Organised Crime Squad.
As detectives unravelled Cornett's enterprise, Operation Anvil became entwined with Operations Redweed and Germanic – two Devon and Cornwall Police probes already looking at the south coast strands of his plot. The monitoring of the gang's activities led to a dramatic armed police stop on Smithdown Road nine months later.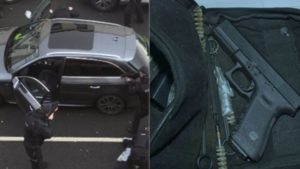 Response units trapped an Audi while machine gun-wielding officers arrested three men that had been inside the vehicle. Those men included Rice, with Rice found to be in possession of a Glock handgun – he was jailed for six years for being armed with the deadly
Gang leader Cornett was jailed for 26 years, while Rice was sentenced to 12 years and eight months and Eves was jailed for 13 years and nine months.