DENIA council has publicly thanked the young Senagalese who saved a disabled man from a house fire in the town.
Gorgui Lamine Sow was presented with a diploma during the official celebrations for the Day of the Local Police on Friday for rescuing Alex Caudeli from the burning property on Calle Port after spotting smoke billowing out from a first floor balcony and hearing his cries for help.
Without a second thought the 20-year old scrambled up to a window and hoisted Alex Caudeli onto his shoulder to carry him down to safety.
Gorgui, who was dressed for the occasion in a traditional white Senegalese outfit which he said represented his country, in turn presented Denia Mayor Vicent Grimalt with two paintings by Senaglese artist Hamidou Sall.
One, which features a truck with Senegalese flag on the bonnet, is for the Town Hall, while the other is for Alex.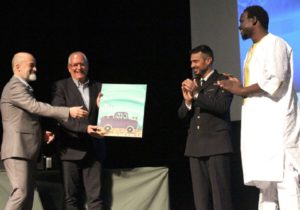 The young Senegalese's brave actions turned him into a local, and national, hero, although initially an anonymous one. He had simply gone on his way without anybody even knowing his name after the dramatic rescue.
Within days he had been tracked down and named in Spanish press.
It turned out he had come to Spain in 2017, and lives in Gandia with his girlfriend, who was in the audience at the Denia's social centre for Friday's event, and seven-month old daughter.
Gorgui is undocumented. But, he explained, he is now registered as a resident in Gandia and is about to provide the Government with the necessary papers to regularise his situation, which he said will allow him and his family to have "a new life."
Denia residents had started a public petition calling for Gorgui to be given work and residency papers as a reward for his act of bravery and Denia council wrote to the Sub-delegation of the Government in Alicante to ask for his status, and by extension that of his family, to be regularised as soon as possible.
Spanish press reported the Government Delegation in the Valencian Community had now initiated procedures with the Employment Ministry to secure documentation and a foreigner's identity card for Gorgui.