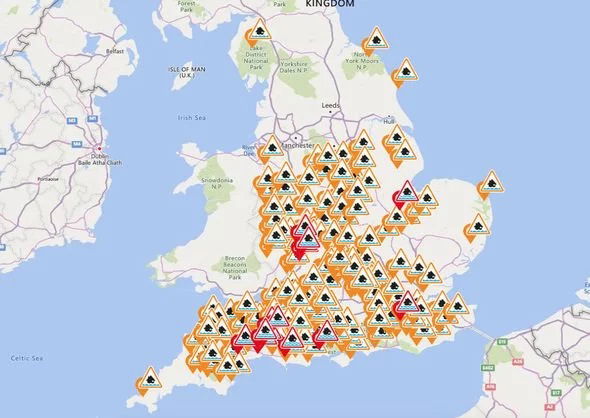 UK storm warning: Flood warnings spread south as 4-day deluge to smash Britain IMMINENTLY
WEATHER warnings have been issued across much of the UK, with heavy rain expected to lead to flooding in some parts. Here are the latest warnings.
After severe flooding struck the Midlands and Yorkshire last month, the Environment Agency has now issued dozens more warnings for the south of England. These come as the Met Office issued widespread warnings for rain, extending across the weekend. Depending on how severe the incoming storm is, the low-pressure system could be given the name Storm Brendan.
Flood warnings
The Environment Agency has issued 15 flood warnings, meaning "flooding is expected – immediate action required". These cover a widespread area, including around the River Severn which burst its banks in November. An additional 175 flood alerts – meaning "flooding is possible – be prepared" have been issued, covering much of the UK.
Met Office warnings
The Met Office has issued warnings of rain warnings from Thursday right through to Sunday. One, in place between 9pm on Thursday and 9am on Friday, covers northern regions including Central, Tayside & Fife, and Grampian. The Met Office said: "20 to 30mm of rain is likely to fall within nine to 12 hours, and this, combined with snowmelt from the hills, will lead to some rising river levels, and the chance of localised flooding".
Much of the rain for the rest of the week into the weekend will hit the south, covering much of southern England and Wales. The Met Office said: "30 to 50mm of rain is likely to accumulate quite widely during this time, with 60 to 90mm over some south-facing hills of southwest England and south Wales. " Some drier periods are likely in between the spells of rain and the longevity of these is uncertain, but the overall accumulation of rain on saturated ground is likely to lead to flooding in places."
The last of the warnings is currently due to expire at midnight on Sunday, so could be extended into next week.