This week Celebrity & Fellow Master Chef Steven Saunders, proprietor of The Little Geranium in La Cala gives us his final Top Tips for making your Christmas dinner … perfect!
THE last couple of weeks I have been writing about the best and easiest ways to cook your turkey and all the lovely trimmings that go with it! These tips will save you time and money and help make Christmas lunch run smoothly.
If you didn't see the last two weeks you can go online at www.euroweekly news.com to catch up. (Just look under columnists to find my name and there are the articles) My recipes are foolproof and give you the benefit of my 40 or so years of cooking, so don't be shy, get online and read them!
Last week we reopened the restaurant after closing for two weeks to refurbish. We have put down a new floor and added some new furniture, kitchen equipment, as well as lighting and put in new bathrooms.
The thing about making changes when we are closed for holidays means that … well, we don't get a holiday! Every day we had to visit and check the restaurant, but also shop for things and before we knew it, was approaching the time to reopen.
We spent days cleaning off the dust, bringing back all the furniture and adding in the new things. By Monday evening we were all exhausted just in time for reopening on Tuesday December 10.
"So how was your holiday?" clients asked. "Was it amazing? … Did you go to the Maldives?" Well yeah we had a day off, prepared the party food for Lorraine Kelly's 60th birthday (it was in her home in Mijas) and spent the rest of the time cleaning, organising and shopping for the restaurant.
"Ha ha the clients laughed… are you joking or have you just come back from the Caribbean?"
It's at times like this that I ask myself, why did I want to be a chef? The truth is that I wanted to be a Hotel Manager and when I left The Savoy after the training, I was offered the job of manager at a beautiful hotel called The White Hart at Great Yeldham.
I had only just turned 20 and was managing a team of about 25 people including a head chef who was in his 40's.
My training at The Savoy included a lot of kitchen work but I was not prepared for what was about to happen. One cold December evening we had a busy night ahead and the chef came down from staff quarters about 6pm.
I spoke with him about the bookings and was taken aback by the smell of alcohol on his breath. "Have you been drinking?" I asked. "No" he said "I was tasting the Christmas pudding mix that's all." I didn't believe him but didn't want to argue so I moved on hoping that when I came back into the kitchen a little later everything would be ok.
The first booking was 7pm, our regulars – the Browns. They had a successful company in London and were very very wealthy, owning expensive fast cars, huge houses, a helicopter and a yacht.
I took their order and went into the kitchen to find the chef face down on the floor with a bottle of brandy in his hand.
We all helped remove him from the kitchen and not knowing what else I could do, I put on a chef's jacket. That was how I became a chef!
I couldn't totally trust anyone after that experience. What if I recruited the best ever chef and he decided to just walk away one day? I was too vulnerable so I needed to be the chef.
So the chef I became and whilst I have never had any problems with the food standards or the business I have a problem being able to take a break, because even when I am not working in my kitchen in La Cala, I am in my kitchen cooking at home! Especially at Christmas! Anyone for another slice of turkey?
Steven Saunders's opinions are his own and are not necessarily representative of those of the publishers, advertisers or sponsors.
---
Honey roasted Parsnips with Sherry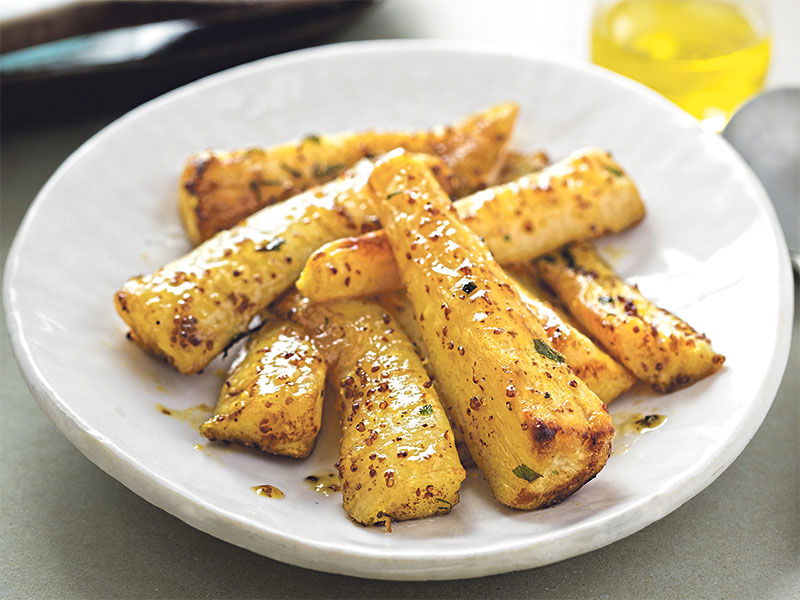 Veggies are crucial for a special Christmas lunch and it wouldn't be Christmas Day without roast parsnips! You can boil/blanch your parsnips and keep them in the fridge for up to a day before. Alternatively, you could freeze them once blanched and then all you need to do is just roast them on Christmas Day.
500g/1lb parsnips, peeled and cut into long quarters lengthways
4 tbsp sherry
A little fresh thyme
2 tbsp clear honey
100g of unsalted butter
salt and freshly ground black pepper
Preparation method
Preheat the oven to 200ºC.
Blanch the parsnips in seasoned water until tender.
Place the blanched parsnips, sherry and thyme into a baking tray and mix to coat the cooked parsnips. Season with salt and freshly ground black pepper.
Roast in the oven for 20-30 minutes, turning half way through, until the parsnips are tender and golden-brown.
Drizzle with the honey and add the butter. Put back in the oven for a few minutes and serve.
Perfect Yorkshire Puddings
Not a necessity, but a welcome addition to the table! You could make the batter a day in advance to save time.
INGREDIENTS (for six muffin sized puddings)
1 large egg
225ml milk
110g plain flour (4 heaped dessertspoons)
2/3 tbsp of veg oil
METHOD
Sift the flour into a bowl and make a well in the middle. Break in the eggs and add a pinch of salt and a splash of the milk. Whisk the egg, gradually incorporating the flour, to make a smooth cream. Whisk in the rest of the milk.
If you have time, cover and let the mixture rest for an hour on the countertop or overnight in the fridge.
Heat the oven to full power (approx. 250ºC).
Pour some oil into a Yorkshire or large muffin tin and put it in the oven for 20 minutes or so to get really hot.
Pour some batter into the tin and return to the middle of the oven. Bake for 25 minutes, until very well risen and golden.