Storm Elsa has battered Portugal, it started battering Huelva province since midnight and now its on it's way up to the Costa Del Sol and our to strike hard in the next few hours.
As the storm swept into Spain it flooded out numerous homes and businesses – roads turned to rivers, sweeping cars away down the street acting like swollen rivers, destroying car after car.
Roads have been closed off due to swept away concrete and smashed down trees by heavy water backed up by strong winds.
Emergency services are now on full standby as the vicious storm heads to the Costa Del Sol which will smash the costa del sol region with 3 days of heavy constant rains.
Residents are requested to stay at home where possible and avoid all river banks as the rivers coming down from the mountains are expected to bring dangerous mudslides as well as extreme rapids of water.
Costa del sol residents are also warned to stay off beaches as hitting waves of up to ten to twelve feet are expected to crash in.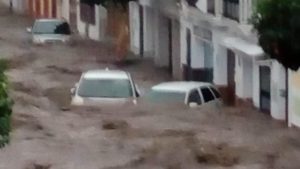 Storm attacking Spain this morning.