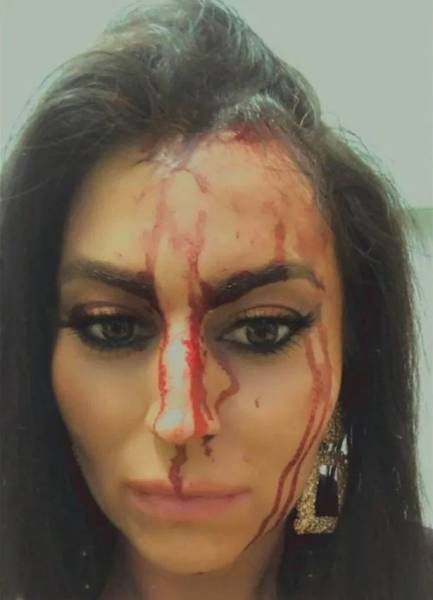 Snooker legend Jimmy White's beauty queen girlfriend glassed in head in mass pub brawl
Jade Slusarczyk, 34, tweeted photos of her bloodied face after she was injured in the Wild West-style scrap on November 29 but Greater Manchester Police are still looking into the case and have yet to find the suspects. Sources say the former Miss Blackpool was hit by a glass launched across the Revolución de Cuba bar in Manchester after two men started rowing. The glass slashed a two-inch gash on the top of her head which left her dripping with blood. Sky Sports darts and snooker walk-on girl Jade – who is 23 years younger than Jimmy – tweeted: "This happened to me, Fri 29th Nov, 10pm, Revolution De Cuba,Peter Street, MANCHESTER.
"Two men kicked off by the top bar & a glass got launched & bounced off my head-splittin it open causin a 2inch gash.
"If anyone was there, seen anything, or has any info, pls get in touch."
Her green dress was covered in blood from her wounds. Jimmy, 57, nicknamed The Whirlwind, met Jade seven years ago at a pro snooker tournament, and they began dating about two years ago. The reformed bad boy tried to impress her by claiming he was 35 when they met. Jade's Twitter followers expressed outrage at last month's horrific glassing.
One posted: "God, that's awful, you poor thing." Another wrote: "That looks and sounds horrific Jade. Wishing you a speedy recovery." A third said: "Well soon Jade, some horrible people around. Sending big hugs. Take care."