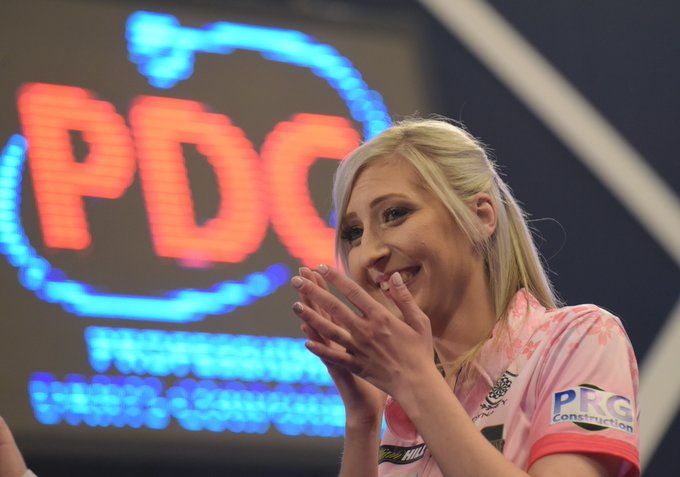 THERE had been skepticism as to whether female players were worth the places they had been guaranteed at dart's show-piece event, however Ms Sherrock, a 25-year-old single mother from Milton Keynes, has proved that not only is she just as good as the men – she is better.
The match took place last night (Tuesday) at the Alexandra Palace, where Fallon wrote her name in the record books as the first woman in history to win a PDC World Championships match.
Sherrock was speechless after the match, the biggest win in women's darts history. Stating, as reported by The Daily Telegraph that is was a very proud moment for her and what she had done for ladies' darts. "I've proven that we can compete with anyone and can beat them."
Sherrock knew she had the ability in her to perform well, stage nerves permitting. And she didn't want to blow her chance.
As Euro Weekly News understands, it was only last year that darts supremo Barry Hearn made the decision to allocate two of the 96 places to women. The sport had never definitively blocked females from competing – qualification is open to players of both sex – but Hearn decided the time was right to give woman a clear path to the top.
"It's not going to be easy," he told The Daily Telegraph. "I can give you opportunity but I can't give you ability."
And Sherrock went out to prove that she had ability in abundance.
Fallon went into the match the overwhelming underdog, but the crowds were on her side cheering her on from the start.
From one-set down she pulled it back to one-all. From two-one down she repeated the trick and levelled at two-all in the race to win three sets.
On her last throw, going for the double 18, her first effort missed but when her second found its target, the Alexandra Place shook as the crowds were on their feet roaring at the top of their voices.
Sherrock, 25, is a full-time mother to her son Rory. Five years ago she developed a serious kidney condition in the aftermath of giving birth. She has proved to be a fighter on and off stage and no doubt will continue to write her name in the history books.
As Ian Mcdonough tweeted:
Electric atmosphere as history is made!
Fallon Sherrock becomes the first woman to win a match at the PDC World Championship in another landmark moment for women in sport.
Electric atmosphere as history is made! ⚡️ 🎯

Fallon Sherrock becomes the first woman to win a match at the PDC World Championship in another landmark moment for women in sport.

— Ian Mcdonough (@ianmcdonough101) December 18, 2019