VERA boasts no less than three nativity scenes this Christmas.
As well as the environmentally friendly "Belen" installation constructed from recycled materials in the Cuatro Caño square, there is also a more traditional nativity in Plaza Plaza Fernando V and a spectacular model recreation of the Christmas story scene.
Named 'Sunset in Bethlehem', the latter is the work of locally based nativity scene creator Antonio de Haro Marquez, in collaboration with Oliver Garcia Rodriquez.
There was a large turnout of members of the public and local officials for the Sunset in Bethlehem inauguration this week, which was overseen by Vera Mayor Jose Carmelo Jorge Blanco and Culture councillor Maria Manuela Caparros. Adding to the festive season atmosphere musical group Sol y Luna performed Christmas carols.
Antonio de Haro explained that the scene covers 36 square metres and features 200 figures of people and lots of animals, most of them made by the most skilled craftspeople in the business.
He also pointed out specific curiosities. These include the depiction of Joseph carrying the baby Jesus in his arms in a reflection of more modern, feminist times, and the Three Kings and their camels resting from their journey in the desert.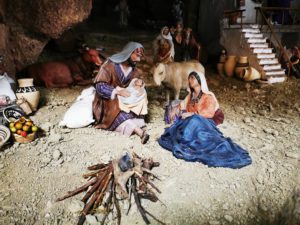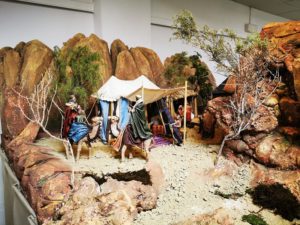 There are also several nods to Vera's own history in the three different sections to the nativity, including the Cuatro Caños public fountain.
One of the sections is a recreation of a mountainous area overlooked by a large cave in which there is Jesus, Mary and Joseph, and the path which the Three Kings follow. The second part shows the gates to the city, with traders at work and dwellings. Finally, there is a section showing the exodus from Egypt, complete with desert, oasis and elephants.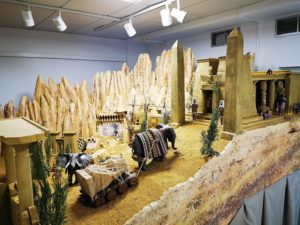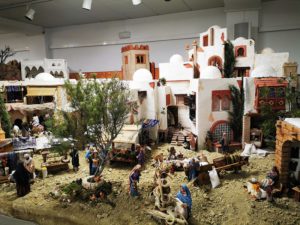 The Culture councillor invited residents and visitors to come and see Vera's three installations for themselves "so that the loveliest customs like nativities are preserved or even grow."
Visits to all three of Vera's nativities are free.
The Sunset in Bethlehem nativity is open until January 10 from 11am to 2pm and from 5 to 9.30pm.