A GROUP of reality stars have been duped into promoting a poisonous drink containing hydrogen cyanide in a sting set up for a BBC documentary.
Lauren Goodger and Mike Hassini from The Only Way Is Essex as well as Love Island star Zara Holland were secretly filmed during a meeting where they were asked to promote a fake diet drink named Cyanora on their Instagram account.
In the documentary named 'Blindboy Undestroys the World', the stars were probed as part of an investigation into whether celebrities actually consume products they are paid for to promote to their followers on social media.
The drink was said to contain hydrogen cyanide, a deadly chemical used in both world wars, including at the Auschwitz-Birkenau concentration camp in the 1940s. The chemical was also used by Nazi Germany during the Second World War for disinfection and pest extermination on ships.
In the show, Miss Goodger talks about promoting another product called Skinny Coffee, which she previously claimed had helped her lose 12lbs in 3 weeks. Her agent tells the seller: "half these posts you see that people do, they're not even trying them half the time", with Miss Goodger adding: "I never even tried Skinny Coffee."
The seller then adds: "Because we were a bit worried that maybe you'd want to, you'd need to try it, before you mention it – no, not bothered?" with Miss Goodger replying "no."
Miss Goodger then went on to film a video clip for the fake drink, which saw her struggling to pronounce the product name, calling it "hydrone cydnide."
Love Island contestant Zara Holland, 24, also agreed to promote the product without trying it, before her agent stepped in and said she wouldn't promote it without trying it first. The Only Way Is Essex star Mike Hassini was also caught in the sting as he overlooked the poisonous ingredient in his audition.
Back in January, Miss Goodger was criticised by fans for her 'fake' weight loss as she revealed her body transformation on Instagram after taking a diet supplement. Posting a before and after photo, she praised Skinny Coffee for helping her achieve her toned frame and said she had lost 12lbs in just three weeks. However, social media followers accused her of lying about how she lost weight and claimed that her transformation was down to the angle of the photo or surgery.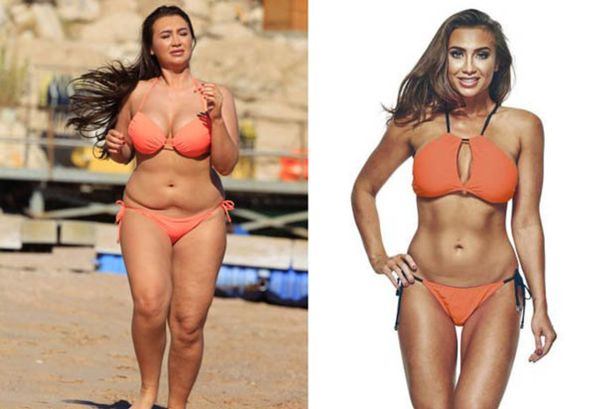 After the BBC documentary was aired, Miss Goodger hit back and alluded to being singled out, saying: "They don't respect you at the bottom. They ignore you in the middle. Then they hate you when you get to the top."
In response, a representative for the reality star said that her client was asked to go to an audition by her management where there was no mention of what the water contained before the meeting. They added that a large sum of money was offered.