Dr. Margaret McCollum, a general practitioner, met Oswald Laurence in 1992 on a tour to Morocco. He had just left acting and was working for a tour and cruise company. The two fell in love, got married, and had been living together in north London.
As Euro Weekly News confirms, the actor had roles in films including 1956 comedy Three Men In A Boat, 1967 movie The Dirty Dozen, and TV episodes of The Saint, starring Roger Moore and though he never became famous, Oswald was the chap who had recorded all the Northern Line announcements back in the seventies.
The" Mind The Gap" announcement recorded with Mr Laurence's voice first aired in the late 1950s.
Mr Laurence sadly passed away in 2007 and his wife, Dr. McCollum, would often go to the Embankment station just to hear his voice. The voice of a man she had dearly loved.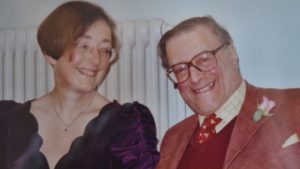 Until one day, in November 2012, she heard a different voice, a digitised announcement instead.
Dr Margaret McCollum says she was stunned when Oswald Laurence's 'Mind the gap' message was phased out and so she asked Transport for London to reinstate his voice – which they did in 2013 and sent her a CD recording – and it is still played on the Northern Line platform today.
"That's my husband's voice!" she had said.
The story has come to light again over the past week after a Twitter thread about it on December 11 went viral.
The woman, a GP called Dr Margaret McCollum, explained that her husband was an actor called Oswald Laurence. Oswald had never become famous, but he HAD been the chap who had recorded all the Northern Line announcements back in the seventies.




And Oswald had died in 2007.

— John Bull (@garius) December 11, 2019