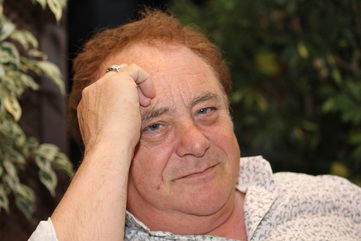 Euro Weekly News writer Tony Winterburn exclusively interviews Ron Howells, Marbella guitarist who played with Kenny Lynch on the Costa Del Sol and today is broken hearted upon hearing the sad death of his pal.
Tony: Ronnie, I understand that you used play with Kenny Lynch when he visited Marbella?
RH: Hi Tony, yes I did, I'm gutted today to hear of his passing, we were big pals and played with him many times. He and Cilla Black, Paul Daniels, Max Clifford, Kerry Katona, Des O´connor, Bobby Davro, Stan Boardman, Jaci Stephens (television critic for the London Evening Standard, the Daily Mirror, Daily Mail and The Mail on Sunday) the list goes on! They all came into the bar and sat opposite myself and pianist Paul Rocks, usually on Saturday nights. We played an eclectic mix of 50s, 60s and in fact anything we were asked for, believe me, it was hilarious!
Tony: What was the name of the Bar and is it still there?
RH: The bar in question "The Edge" was in its hey-day (2007-2011) a very popular Puerto Banus Celebrity destination. It unfortunately closed after the death of the owner.
Tony. Did Kenny go there often?
RH: Ken Lynch was a frequent visitor when he was in Marbella, in fact so often that he gave me a list of songs he would like to sing in the bar when we met for coffee in Joy's live one afternoon, another Famous Live music night spot in Puerto Banus. When I asked him about the keys he wanted he simply replied "whatever you like"!
I remember him being a very kind person, a true gent and very professional, he was also a great singer which something Paul and I soon discovered when Kenny would pop in for a "Little Singy" as he used to say. He loved to sing Sinatra, Jazz and Soul and very often he was joined on stage by one of the many other celebrities that were present that night, off course with a decent measure of the obligatory Brandy and ice!
Tony: Ron what are your fondest memories of Kenny Lynch?
RH: Well there was one particular night, I think summer 2011, which springs to mind, Peter Kay and Toni Christie had re-released Amarillo and it received a text from the owner of the bar that Des O'Connor would sing it that night in the bar if we can print off the words and get the music sorted, which we did.
Try to imagine the scenario, on my close right is the VIP area, Cilla Black, Max Clifford, Kenny Lynch, Kerry Katona and off course Des O´connor (as he was her agent at that time) are all sitting there enjoying the music, on my left there were at least 100 clients/punters all starring over at the celebs whispering to other "oooooh look, Cilla Black, Des, Kerry…) when Des suddenly gets up and prompts us to start playing the Amarillo track, so we did.
Tony: What happened then and were you nervous in front of the celebs?
Well, having just completed the summer season on a beach in Estepona playing Still Got the Blues while was Gary Moor sitting behind me with his son eating their lunch, no!
Tony: The Des O`connor song?
RH: Okay right, well I didn't know he couldn't see the words properly, even though I printed them on an A3 sheet with massive font size, and honestly whatever he sang had nothing to do with the song! When suddenly a woman just rushes over, grabs the mic and starts singing it. Des, the true pro, just puts his arm around her and joined in, with the security keeping an eye on her Kenny jumps up and takes the mic off her! There were so many people there that night that I'm sure pictures were taken, I'd love to see them! After that "song" was finished Kenny just carried and sang at least an hour without a break, except for the odd sip of his favourite tipple off course. When he finished to a standing ovation Kerry Katona was invited up to sing.
Tony: Did you say he introduced Kerry Ketona onto the stage?
RH: Yes, he had a brilliant sense of humour and just looked over to us and said, "Welcome on stage Kate Kattooooona" the place erupted in laughter!
Another memorable event, I held out my hand for her to join us on stage when my guitar headstock, very sharp thin strings, stuck into her arm pit, I can't repeat here what she called me! All I can say is before that point I never knew she could sing, after that I knew she couldn't! Kenny almost choked laughing, he stood there with arms folded and just grinned then came over to me to congratulate me, he put his arms around and said that he hadn't laughed so much in years. "Ronald do you know you could have done something with your talent"? I just replied with "I'm fine just here mate"! He nodded in acknowledgement and replied "you are aren't you"…
He will be truly missed, he was a true gentleman.
R.I.P Kenny Lynch