THE TEENAGER found guilty of killing a "loving, caring and bright" schoolboy who was rammed off his scooter by a drug dealing gang and then stabbed 9 times, has been jailed for life.
As previously reported by Euro Weekly News, Ayoub Majdouline, 19, was found guilty last week (December 11) of the murder of the Jaden Moodie, 14, who was left bleeding to death after the horrifying attack in east London on the evening of January 8.
Ayoub Majdouline, 19, was among a group who had driven around looking for a rival gang member to attack when Jaden was killed.
The 19-year old has been sentenced to life with a minimum term of 21 years for the murder of 14-year-old Jaden Moodie.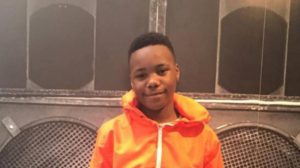 Harrowing CCTV images show Jaden Moodie fatally stabbed. The footage was played in court and showed Jaden being knocked off his moped by a stolen Mercedes before he is seen lying defenceless in the road.
He was then stabbed by a group of people before the Mercedes drove off.
The court heard how Jaden suffered nine stab wounds and bled to death in the road as attackers sped away in the stolen vehicle.