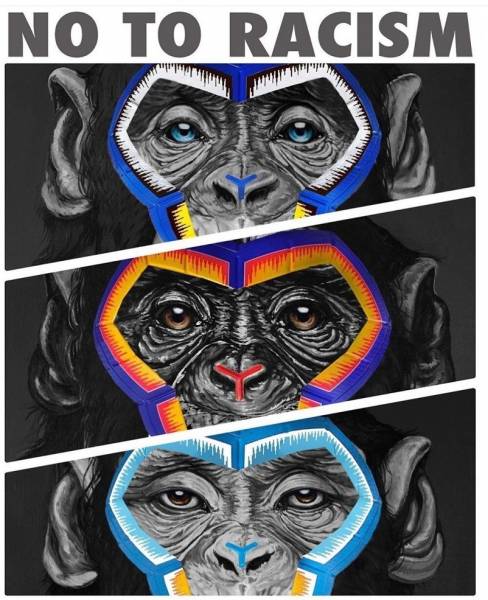 An Italian football anti-racism initiative featuring paintings of monkeys has received widespread criticism after its release on Monday.
The sport in Italy has been blighted by racist abuse this season, and the artwork commissioned by Serie A was designed to stop fans directing monkey chants at players. Artist Simone Fugazzotto came up with the idea for the Coppa Italia final between Lazio and Atalanta in May — and its part of an official anti-racism initiative that was officially unveiled on Monday. Fugazzotto said his triptych of monkeys was intended to show that there's no difference between humans and apes, an idea that he decided to use after watching a match between Inter Milan and Napoli.
"Everyone was making the sound of monkeys at Koulibaly, a player I respect," Fugazzotto told the Serie A website, referring to Napoli's Senegalese international Kalidou Koulibaly.
"I've always been painting monkeys for five to six years, so I thought I'd make this work to teach that we're all apes."So I made the western monkey — white with blue eyes — the Asian monkey — with almond eyes — and the black monkey in the middle, which is where everything comes from, this is what the evolutionary theory tells us," Fugazzotto told reporters. "The monkey becomes the spark to teach everyone that there is no difference. It's not that one is man and one is monkey. At this point, we are all monkeys … if they really feel the need to tell a black (player) that he is one."
Artist Simone Fugazzotto said his work was inspired by the racist abuse directed at Napoli's Senegalese defender Kalidou Koulibaly in an Italian soccer game.
"These creations are an outrage, they wil be counter-productive and continue the dehumanisation of people of African heritage," said anti-discrimination organization Fare on its Twitter feed. "It is difficult to see what Serie A was thinking, who did they consult? It is time for the progressive clubs in the league to make their voice heard." Former England international Stan Collymore tweeted: Fantastic to see Serie A anti racism campaign posters (yes, it's really real). "Maybe get the mascots to Black up as a finishing touch."
Meanwhile soccer agent Jen Mendelewitsch tweeted: "Serie A 'No to Racism' campaign. Please tell me this is a joke."