LOCALS have been rallying round to help Age Concern Estepona y Manilva's clients have a happy Christmas.
Students from Queens British Grammar School are sending Christmas cards to people living alone at Christmas supported by volunteers from the charity..
On top of that, Louise Jones, owner of Fate Foods, approached Age Concern Estepona y Manilva, with the completely free offer of Christmas dinners on Christmas day to be delivered by volunteers who would also spend time with people who may be on their own. The charity said that it is a wonderful offer that will help some of their clients feel less isolated this Christmas.
Christmas lunch Volunteers working for Age Concern Estepona y Manilva in our charity shop and in the community enjoyed a Christmas lunch at 'de la Mar' Estepona Port last week.
A charity spokesperson said: "May we take this opportunity to wish everyone a very merry Christmas and a happy New Year. Our charity shop in Estepona closes on Friday 20th after trading and reopens on Tuesday 7th January."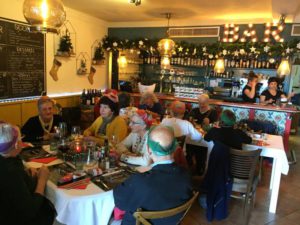 For those who require help or advice, Age Concern operates a telephone service called Adviceline and an email address [email protected] This gives the individual direct points of contact with the charity. The telephone number is 650163928 and is in operation from 10 am to 4 pm, Monday to Friday.
It should be noted that Age Concern is not an emergency service and this phone is not a 24-hour service, but all messages left will be answered when a volunteer is available
The office in the shop in Calle Zaragoza is open during shop opening hours (10 am to 1.30 pm, Monday to Saturday) and can be rung on 951318234.