THE Guardia Civil and the Tax Agency have carried out a joint air and sea exercise on the Costa Almeria as a practice run for intercepting boats and making onboard detentions.
Members of the Guardia's air and sea units took part in the exercise, along with customs agents, which saw them simulate the sighting, localisation, tracking and interception of a craft and its occupants.
The simulation was preceded by several coordination meetings between the participating units to set out the guidelines and to design the exercise exactly as if it were a real situation.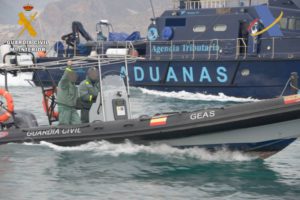 The exercise in Almerian waters was a great success, the Guardia Civil said, and had served to perfect the protocols for actions alongside the Customs Surveillance Service and optimize response times.