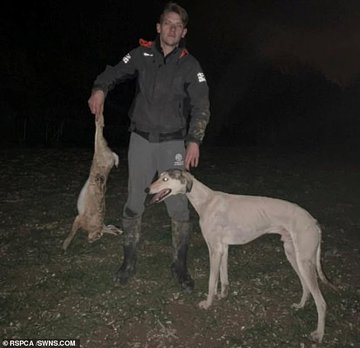 JIMMY PRICE, 25, from Loose in Kent, filmed himself stabbing a young deer in the neck and also taking part in an illicit hunting event which gave £1,000 in prize money for the winner who could produce evidence of having killed the most hares.
A court has heard how Price had numerous gruesome hunting images and videos from various dates in October and November last year, the phone had been confiscated by the police after a recent arrest and it was handed to the RSPCA for investigation.
According to the Daily Mail, Pippa Boyd, RSPCA inspector gave evidence on how one video shows Price stabbing a deer in the neck several times but not killing it. A second man can then be seen to take over and saws the animal's neck with a blunt knife until he succeeds in cutting the animal's throat.
The deer is shown bleeding to death in the video, as the voices of four or five men yelling encouragement can be heard in the recording.
WhatsApp messages were also shown with threads of conversion discussing a hunting game, in which entrants paid £100 to take part and win the prize of a £1,000 and an engraved cup for the winner who could produce evidence of having killed the most hares.
Price initially faced nine charges relating to breeches of the Hunting Act, the Deer Act and the Wildlife and Countryside Act, all of which he denied.
Prosecuting for the RSPCA, Rowan Morton also introduced evidence of Price's bad character – that he had three previous convictions related to causing unnecessary suffering to dogs.
Magistrates were also informed that Price had, in March 2018, been previously convicted of two counts of theft and one of attempted theft.
At this recent court hearing, Price declined to give evidence on his own behalf, and was found guilty of two counts of killing a deer, and two of killing a hare.
Price is due to appear in court again in January along with two other men to answer further charges of causing unnecessary suffering to a dog and horses.
The current convictions will be sentenced by the magistrates on the completion of the next trial on January 10.