As predicted by the Euro Weekly News The first in a series of storms has already rolled into Spain this week and more heavy rainfall is expected to land.
A prolonged period of moderate to heavy rainfall will spread across the Costa del Sol regions heavily from Wednesday afternoon into Friday with more potential rainfall possible this coming weekend.
The Heavy rainfalls will be coming in from Portugal into Spain on Wednesday afternoon.
The heavy rain clouds will advance south and east Wednesday night, hitting hard into the Costa Del Sol and Malaga regions.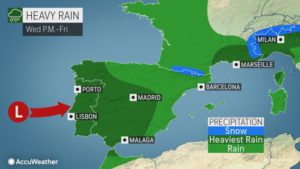 The Costa del Sol will be at risk of heavy flooding from seriously heavy rainfall on Thursday with the heaviest expected across the Costa del Sol during the afternoon and early evening.
Dry river beds are expected to fill up quickly as the heavy rain comes down from the mountains with likely river banks bursting and over flowing.
This surge of heavy rainfall will flow eastward across Spain Thursday night, bringing a large risk for flash flooding and travel disruption due to the intensity of rain fall.
Another wave of serious rainfall will race across the Costa del Sol, inbound from Portugal from Friday afternoon and throughout the evening.
The coast of the Costa del Sol will suffer the most from water running down to the coast from further inland with at least 5 inches of rain expected minimum causing potential mudslides in more terrain areas.