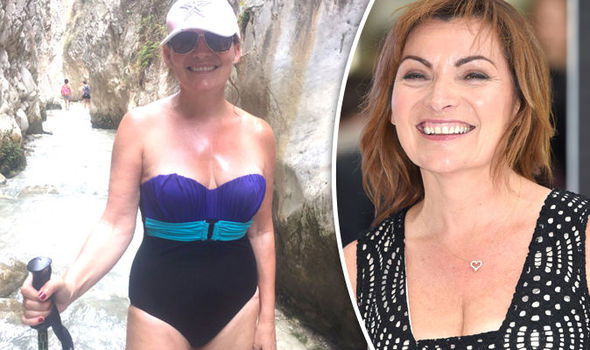 The husband of heiress Tamara Ecclestone has hit back at TV coverage of a £50 million jewellery raid at their home with a direct shot at the Costa Del Sol's part time resident the gorgeous Lorraine Kelly.
Lorraine who resides when not working near Benalmadena and is often seen out and about as well as at Nikki Addis Zumba classes as she goes through her routines took a direct shot on instagram from the heiress's husband.
Jay Rutland reacted on Instagram after Lorraine Kelly made comments on her ITV morning show.
The Costa Del Sol regular Lorraine said she did not understand anyone having that amount of jewellery, adding: "Just get stuff from Claire's Accessories and then nobody will want to steal it."
Fellow presenter Kate Thornton commented on a photograph that Ms Ecclestone had posted on Instagram of her daughter boarding a private jet to Lapland hours before the burglary on Friday.
Thornton said: "Maybe the moral of the story is, if you've got £50 million of jewels at home, don't let people know you're not there."
Questions have been raised by thousands of people over how the thieves knew the location of the safes where the jewellery was kept and how they gained access to the heavily guarded property undetected in one of the securest areas of London in Kensington.
This prompted husband to post "Cheers Lorraine. I hope you never have the misfortune to be robbed." in sarcastic tone.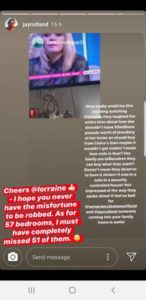 Residents on the Costa Del Sol were all in support of " their" Lorraine and really aren't impressed with the cheap shot aimed at the Scottish TV presenter.
Maggie Wilson from Benalmadena originally from Dundee said: Who on earth does he think he's talking to? Lorraine is the sweetest person you could meet – I've chatted to her in Dundee as she lives on the ferry as we call it and I chat to her here too, It's not Lorraine's fault the clowns left 50 million pounds worth in their house unattended"
Meanwhile Fuengirola resident Sarah MacDonald piped up with " It's laughable – clearly and inside job and Lorraine is smack on with her comments, who on earth needs all them gems in the first place, she's only got them anyway as her old man milked F1 for so many years – it's total snobbery and our Lorraine said what billions of other people are thinking and good on her!"
Whilst Wendy Bradshaw from Torreblanca said as she was opening up Brads bar " Lorraine is a sweetie, she's my favourite on the telly and makes me smile every morning, who the hell does the spoilt brat husband who married an heiress born with a sliver spoon in her mouth think he is? – I saw it on the gram this morning and was furious"
Ms Eccelstone's father, former Formula One boss Bernie Ecclestone, suggested on Monday that the burglary may have been "an inside job".
He told MailOnline: "I don't have all the facts but, given all the security at the house, I'm assuming it was an inside job.
"It's an awful thing to happen just after she had left the house to go to Lapland. Although maybe it's better that she wasn't in at the time."
The Metropolitan Police said investigators are keeping an open mind about the raid, and that it is being treated as an isolated burglary.