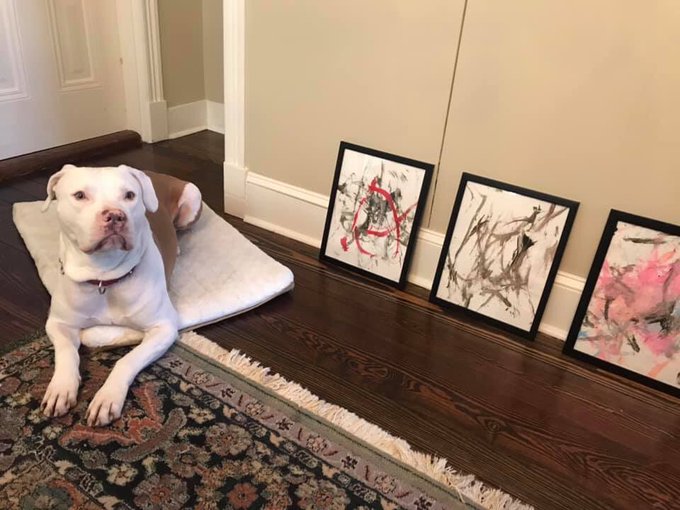 A TALENTED pooch at the Animal Welfare League of Alexandria (AWLA) has managed to help raise over $4,000 by using his unique talent – painting.
Rico, now nicknamed Ricasso, is a six-year-old Staffordshire terrier who has lived at the AWLA for the past 15 months.
"He came to us as 'Rico' but when we realized what a talent he was, we nicknamed him 'Ricasso.' We like to think of it as his stage name; at home, he's 'Rico,' but amongst the art world, he is 'Ricasso.,'" a spokesperson for the AWLA said as reported by abcNews
Volunteers at the shelter on noticing his happy, wagging tail decided to let him convey his mood with his "happy, waggy" tail dipped in some paint.
What they didn't expect was his artwork to sell out like hot cakes.
On December 6, volunteers held an event where attendees met Ricasso before bidding on his artwork.
In less than an hour, all 20 pieces had been sold, and Ricasso raised more than $4,000 for the AWLA.
The artist himself is still at the AWLA, splitting his time between a foster home and the Artist's Suite in the shelter's kennels.
However Ricasso's biggest adventure yet is finding a family to call his own. Ricasso's adoption fees have been prepaid by a generous donor and this is how Rico describes himself:
"Hi, I'm Rico and I love living an active life! I may be a little shy at first, but once you get to know me you'll see that I'm a goofball who just wants to play fetch. I'll be your partner on long hikes and walks on the beach, with breaks for water and treats, of course! In fact, I just went on a super cool field trip to Old Town and got to explore the waterfront – it was the best day ever! I wish I could explore like that every day! My friends here at the shelter tell me I'm a total "people-guy", as I'd prefer to spend my days snuggled up next to my hooman, without the company of other animals. If you've got room in your life for a goofy guy with a heart of gold, come meet me today! "
He is however NOT OK with cats!
a dog at the animal shelter i volunteer at has been doing artwork and we were able to raise over $4,000 for the shelter by selling it! Rico (aka Ricasso) has been at AWLA for over 15 months so if anyone is interested in him he is still up for adoption! 💙 pic.twitter.com/gC1XcS4YVJ

— hingle mccringleberry (@virtualeyeroll) December 14, 2019