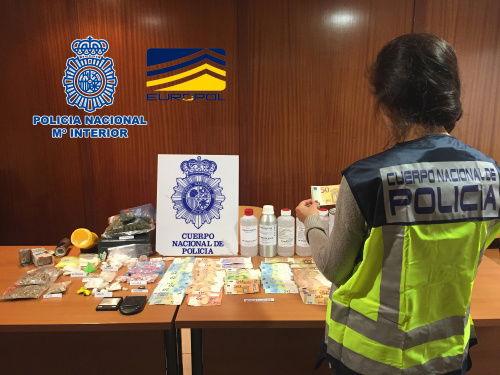 SPAIN's National Police have taken part in an operation against people selling fake bank notes on the so-called 'Darkweb'.
Coordinated by Interpol, Spanish officers were amongst those who made 36 house searches, detained 44 suspects for questioning, 11 of whom have been arrested, and seized counterfeit euro banknotes, drugs, weapons, doping substances, illegally procured medicines, forged documents and virtual currency.
A clandestine documents print shop was also dismantled in Germany. Germany carried out 27 house searches and nine other raids were done in Austria, France, Greece, Ireland, Luxembourg and Spain.
These joint activities were triggered when the Portuguese Judicial Police (Polícia Judiciária) dismantled a digital print shop in July 2019.
This Europol-supported operation led to the arrests of five people suspected of producing and distributing counterfeit 10 and 50 euro banknotes mainly via the Darknet.
Over 26 000 fake banknotes were shipped to buyers all over Europe, making this criminal group the second-largest counterfeit currency producer operating on the Darknet to be identified so far. Europol analysed the information uncovered during the raid in Portugal and passed it on to the affected countries, leading police to buyers on the Darknet.
In order to prevent these buyers from alerting each other to police action the raids were carried out jointly and simultaneously.
In Spain, five people have been arrested in La Coruña, Pontevedra, Alicante and Santa Cruz de Tenerife.
Europol, assigned with the role of the European Central Office for combating euro counterfeiting, supported the investigation with operational analysis and facilitated the information exchange.