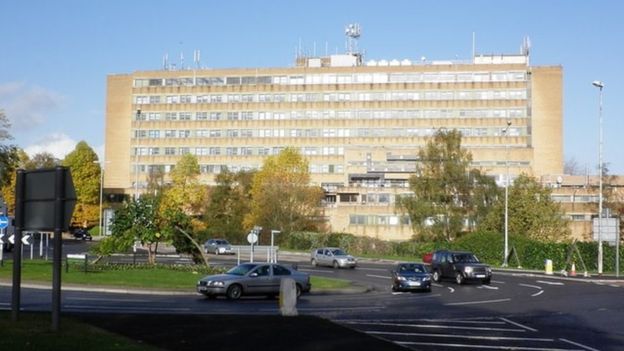 A woman claims she was left screaming in pain after doctors failed to properly anaesthetise her during surgery.
The unnamed patient underwent a gynaecological procedure at Yeovil Hospital, Somerset, in July last year.
She was reportedly given a spinal anaesthetic, which "gives pain relief in specific areas of your body", according to Nuffield Health.
Yeovil District Hospital NHS Foundation Trust admits she should have been under general anaesthetic, which sends patients to sleep and leaves them unaware the operation is being carried out, the NHS reports.
The woman told locals in Yeovil Somerset she "immediately felt" an incision in her belly button. Although she screamed out in pain, her oxygen mask reportedly muffled the sound.
More than a year later, she claims she still has nightmares.
"I have been suffering with nightmares which are horrendous," the patient said.
"I have a re-occurring image of lying on the operating table, screaming with lots of people around me watching and no-one helps me.
"I estimate I wake up around three times per week sweating and very fearful."
The trust has accepted liability and apologised, blaming a "breakdown of communication" for the incorrect anaesthesia.
It declined to comment further ahead of a settlement being reached.
The patient's solicitor Elise Burvill, from Irwin Mitchell, told the BBC her surgeon was surprised to find her awake during the procedure.
This reportedly left her anxious, which was made worse when the pain kicked in, Ms Burvill added.
Although it is unclear what surgery the woman had, the NHS claims a general anaesthetic is "essential for some procedures where it may be safer or more comfortable for you to be unconscious".
These may include "long operations or those that would otherwise be very painful".
Yeovil Hospital has a horrendous record for blunders often being sued by patients although they never end up in court as they pay the full settlement so the patient can't get them to face their consequences across the court room.
We the Euro Weekly News spoke to Lizzie who's baby sister was killed by Yeovil Hospital and she explained to us how and what happened in their case.
" My mum went to Yeovil Hospital to report her baby wasn't moving properly – they simply sent mum home. on the basis the baby was just resting before birth. Mum having already had myself and brother Henry thought it wasn't correct and went back to the hospital for a second opinion they refused a scan and said it was normal – on a third visit she did get a scan and then the alarm bells went off and they immediately transferred my mum to Taunton hospital where my little sister was delivered by c section. It turned out my little sister had an inflamed bowel which had become blocked and was about to burst" Lizzie explained.
" After the birth baby Lucy was transferred to Southampton hospital for a life saving attempt operation but unfortunately she died on the operation table" Lizzie explained.
" Yeovil Hospital killed my sister" Lizzie in anger told us.
Although she then went onto explain matters afterwards which were even more horrendous.
" My parents were distraught and when they went to see the Doctor who delivered Lucy at Taunton hospital to thank him for his efforts – he tipped them off and said it was a huge blunder by Yeovil Hospital and if the hospital had followed the correct procedures with a scan on the first visit then she would have lived, the delays allowed the blockage to build up and become poisonous, also if it had gone on any longer my mum would have probably died as well if Lucy's bowel had burst inside her"
"Even worse though was that the Doctor directed my Dad to seriously investigate and request the Yeovil Hospital notes, my Dad did this and they had all been fudged to attempt a cover up whilst claiming it was just one of those things" Lizzie went on to say.
Lizzie then added " Dad was obviously furious when he discovered the notes had been fudged over and pages torn out in an attempt to hide the truth – thankfully he ran his own business and deployed top lawyers – he didn't want compensation but he wanted those who had lied and cheated in an attempt to cover up the death of his daughter as being their fault – he wanted them to answer in a court room and face up to their consequences"
Lizzie then explained how Yeovil Hospital got away without having to face up in court.
"My dad's lawyers had the Yeovil Hospital bang to rights – the legal process went on for over a year and a half whilst my Dad, not only had to deal with the awful death which affected him very badly, but also with the legalities of bringing – in his eyes – the culprits to court to face up to what they had done, he accepted mistakes can happen but he couldn't except the attempted cover up, the lying and cheating by Yeovil Hospital"
" Unfortunately Dad never got his day – how Yeovil Hospital got around avoiding the court action was to offer the maximum pay out, unbelievably the NHS have a price list for certain deaths – my Dad's legal team contacted Dad and informed him of the settlement offer – I still remember the day clearly as he screamed down the phone to his lawyer I DON'T WANT THEIR BLOOD MONEY – I WANT THOSE [email protected]_'\DS IN COURT TO FACE ME AND THE COURT FOR THEIR LIES AND DECIET"
"However, as Dad's legal team explained, because the Hospital offered the maximum pay out, if the case went to court and the judge offered one penny less than what was offered Dad would have to pay all the legal fee's and Court costs which would have been in the region of just under 300k at the time and that it would not be likely the Judge would offer a penny more, being guided by the maximum " price list for child death"
"Dad was furious and is still furious to this day especially as Yeovil Hospital never realised or cared about the devastation their actions brought about to our whole family, a family which sadly never recovered and eventually broke up" Lizzie further confessed.
"That's exactly how Hospitals avoid ending up in court to face their actions" explained Lizzie.
"Waft a cheque and wash the problem away was their attitude and the culprits never even lost their jobs – all we were told was they had been sent on a training course"
" Dad refused at first to collect the cheque when the settlement was paid to his lawyers account – they would call and he will say no I don't want it " its blood money" give it away!"
" Eventually our family solicitor called and explained to Dad that legally we had to collect the monies as it wasn't legally correct to give it way – so Dad drove to their offices two hours away on his own to make the collection"
" He was gone for hours and we were really concerned but when he arrived home that evening he was wearing a tatty old leather jacket and had a wry smile on his face"
Lizzie went on to explain what happened " Dad collected the cheque and went straight down the bank and paid it in – he said he drove home hating the fact that the blood money as he called it was sat in his account and he just couldn't accept it- as he drove down the motorway he came to the Taunton exit – the birthplace of Lucy so without any thought drove into the town, he still says to this day it just felt right – he went in to Wetherspoons in Taunton to gather his thoughts of what to do and saw an NSPCC shop across the road with a little old lady arranging clothes on a rack"
" Dad walked into the shop and spotted the tatty old leather jacket and requested a price from the old lady – she offered it for five pounds – Dad asked her do you take a cheque, to which the lady replied yes, so he wrote out a cheque for the full amount of the blood money which was a very large amount and legged it out the shop before the old lady could see the amount"
" Dad still has the jacket and we all look at it as a reminder of how Yeovil Hospital tried to cover up and pay us off with blood money"
It's so sad to see Yeovil Hospital is atrocious and there have been many more blunders since Lucy's death and I really do advise anyone to avoid that hospital like the plague.