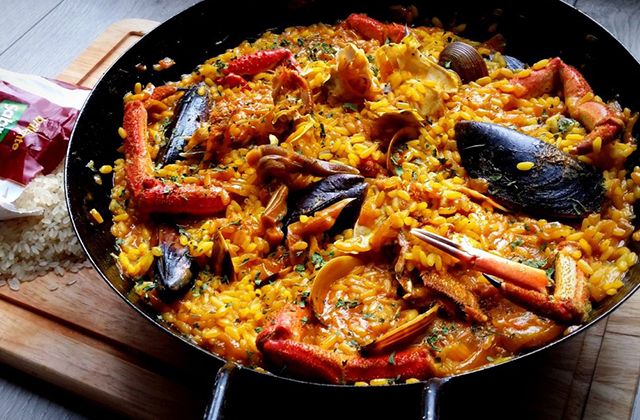 Paella is for sure, the beauty of dining out in Spain, since it is one of the dishes that, while not originally from Andalucia, has become one of the most traditional dishes on the coasts of Spain as millions of tourists come from around the world to a saviour a great paella.
Paella is actually a traditional Valencian dish, that has ventured across the majority of Spanish borders.
Due to this there are many variations of paella and with Spain being plentiful with bars and restaurants variations of Paella are plentiful.
Here are the top five different types of Paella that we suggest you sample.
1. Valencian Paella.
The Valencian is the typical Spanish paella. This recipe is the most common one known throughout Spain and is prepared with a tomato, pepper, onion and garlic sofrito. Rabbit is the main ingredient meat used for this savouring dish. If you come to Andalucia, try it with a good red wine, the perfect combo of Spanish food and drink.
2. Meat Paella.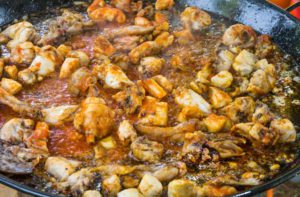 Meat Paella is the equivalent of a British persons Sunday roast dinner.
For People in Spain this is Sunday lunch such as we know it. A perfect plan for eating out on weekends and savouring how the Spanish enjoy their Sunday lunch time with their family. The main ingredient is the chicken meat with lots of black pepper and paprika.
3. Sea Food Paella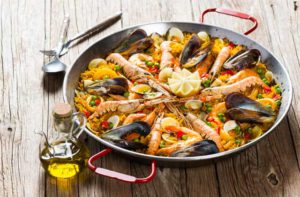 A sea food fans delight made with the full taste of the sea with squid, prawns, mussels and clams. It is one of the most popular dishes in coastal areas and, in summer, it is very often eaten on beach bars. You can't visit a beach in Andalucia without trying the seafood paella.
4.Mixed Paella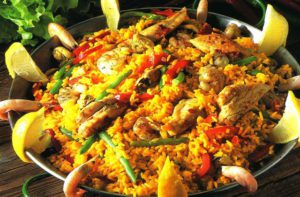 This dish never fails to deliver, a mixture of meats and fish combining the perfect paella in Spain that you will find eaten in many Spanish households on a daily basis as well as restaurants.
5.Black Paella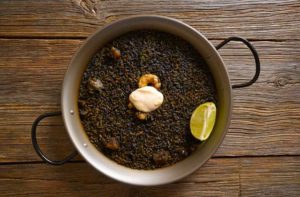 This variety is typical, especially in Galicia. It looks totally different from the rest of all paellas, the rice becomes black due to octopus or squid ink. The ingredients are the same as the seafood paella, but this additional adaption affects not only appearance but also the taste. This characteristic has made this recipe one of the most sought after thanks to its originality. If you like strong tastes in your mouth, this is the paella for you; give it a try!