Snow blizzards have hit parts of the UK, with heavy showers and blustery gales forecast for most areas.
Buxton, Derbyshire, is one of the areas of the country that have been hit by the snowfall.
Torreblanca Costa del Sol residents Paul & Mary Gregory who returned to the UK for a week got caught right in the thick of it after venturing out yesterday.
With an early flight back today booked to their Costa del Sol home -panic set in when their car got stuck high up in the hills near Buxton.
Paul explained to the Euro Weekly news " honestly I'm not a fool to go out driving in the snow but it came down rapidly without any forecast"
" When we left home, it was just low cloud in the skies as we set out to deliver Christmas presents before returning back to the Costa del Sol. The roads came completely un passable within a spate of 20 mins maximum and we got stuck up in the hills as the car could no longer grip anymore. For obvious safety reasons I stopped but then the snow just got deeper" said Paul further.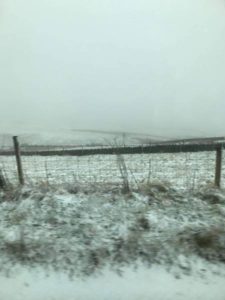 " As it is a quiet country lane, fear set in as I thought we could be here for days as the snow kept coming down, meanwhile my mobile phone battery was flat after following the election news and the stock market rise on my phone and had forgot to recharge it" Paul further explained.
" My wife Mary then noticed a yellow object coming through the snow blizzard and thankfully it was a farmer on his tractor and he saw us stranded and stopped" explained Paul.
Wife Mary went onto say " we were so grateful to the Farmer, he was out to check on his sheep when he saw us stranded – I don't know what we would have done without him, I was furious at the time with Paul as he's constantly on his phone checking his shares on the stock market and had not thought to charge his bloody phone"
The couple were pulled out of their stranded position and towed to the nearest town by the farmer 15 miles away.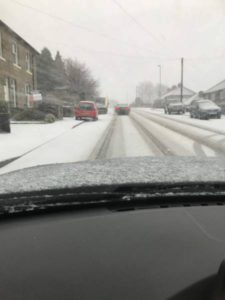 Paul Said: " We were so relived to get back down to the town and back to civilisation – I really thought we would be stuck their for days on end and miss our flight home to the Costa del Sol"
Whilst wife Mary Said: " I will be buying him a new phone for Xmas with a decent battery- I could have killed him"
" We can't wait to get back tomorrow"