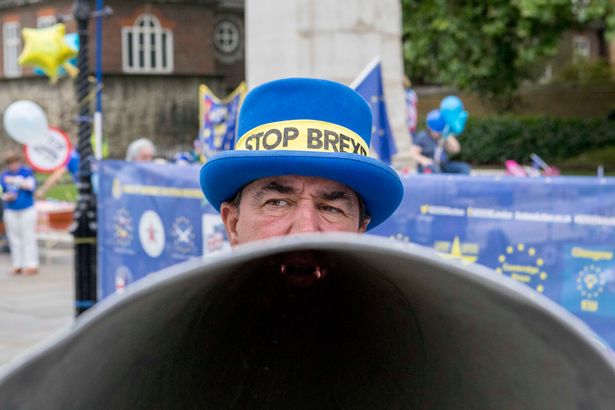 British anti-Brexit protester Steve Bray is a familiar face outside the Houses of Parliament.
Bray known as " Stop Brexit guy " or the "man who shouts stop Brexit", is regularly seen on the background of the news and definitely heard to the annoyance of millions!
Bray shouts of "Stop Brexit" and "Revoke Article 50″ have been heard through his megaphone for the last two years. Whilst haranguing high-ranking politicians, photobombing their press calls and hijacked their TV interviews since September 2017.
Not that many actually knew, as he's far better known as " Brexit Guy" – he stood for a seat in the General Election in Wales as a Lib Dem.
Thursday's General Election, saw Steve, from Port Talbot in Wales, stand in the Cynon Valley region and he got battered.
He lost with just 949 votes to 15,533 making Labour candidate Beth Winter the constituency's new MP.
On Friday morning Boris Johnson told Remainers to "put a sock in it"
He said: "And I say respectfully, I say respectfully to our stentorian friend in the blue 12 star hat, 'That's it, time to put a sock in the megaphone and give everybody some peace'."
Unfortunately for everyone including remainers he's not giving up, he's headed back to London as he vows to carry on campaigning and to continue to be a pain in backside on the news.